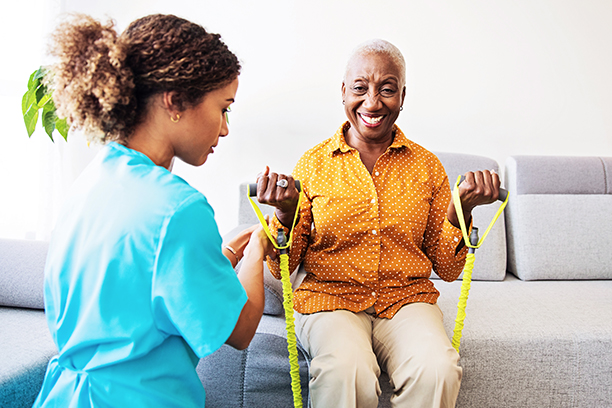 How a Personal Care Assistant in Bradenton, FL, Can Help Your Senior Loved One Avoid Falls
With the help of a referred personal care assistant from Visiting Angels, your loved one in Bradenton, FL can avoid fall-related risks and stay safe in their own home
Falls are one of the main reasons why many seniors lose their independence. This is because the damage a fall can cause extends to much more than just a physical injury. Falls can have a major impact on a person's emotional and social well-being as many seniors who fall once often develop a fear or falling.
This fear may cause older adults to avoid leaving their home, decline social invitations, and miss out on important family occasions. When not addressed or solved in any way, this behavior can spiral into anxiety, loneliness or depression and significantly reduce one's quality of life.
However, the good news is that a personal care assistant from Visiting Angels Bradenton's network of independent caregivers can help your loved one with fall risk reduction, provide transportation and mobility assistance and make their home a safer place – thus reducing any fall risks in Mom or Dad's environment to a bare minimum.
Falls Are Life-Changing
Some of these statistics clearly indicate just how serious falls can be:
One in three seniors falls every year and one in five sustains serious injuries such as a fracture, a concussion or a broken hip.

When older adults fall once, they are more likely to fall again.

Annually, there are more than 800,000 hospital admissions as a direct result of a fall.

Recovery from a fall can be a long, arduous process and even last up to a full year.

During recovery, most people will require long-term care provided in a facility or at home by an in-home caregiver.
How Referred Personal Care Assistants Can Help Your Loved One Stay Safe
In the majority of cases, falls are caused by one or a combination of several risk factors. A risk factor can be anything that increases a person's chances of falling. Most risk factors can be linked to a pre-existing physical condition, a medical problem or an unsafe item or object in a home environment.
Arthritis, osteoporosis, Parkinson's disease, poor vision, taking multiple medications, loose cords and the lack of grab bars in the bathroom are some of the most common fall risk factors. By being able to identify and address these risks promptly, your loved one can be one step closer to a safer home environment.
At Visiting Angels Bradenton, we are committed to educating seniors, their families and our independent caregivers and service providers on how to reduce falls and maintain an ongoing quality of life for our clients.
Learn more about how we can refer a personal care assistant to help your loved one avoid falls by calling our Bradenton, FL office today. Visiting Angels is here for you!
Download Your Free Safe & Steady Fall Prevention Resource Guide today.
Serving Bradenton, Bradenton Beach, Bayshore Gardens, Ellenton, Lakewood Ranch, Longboat Key, Palmetto, Parrish and Surrounding Areas
Visiting Angels BRADENTON, FL
4814 26th Street West #A
Bradenton, FL 34207
Phone: 941-758-4500
941-758-4505
NR3021171