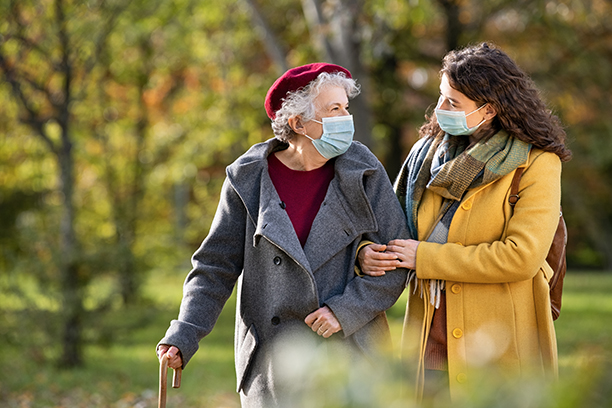 Interim Home Care Referrals for Seniors in Bradenton, FL
Respite care allows family caregivers in Bradenton, FL to take time for themselves while ensuring senior loved ones continue to receive quality care
If you have decided to look after your senior parent or a disabled loved one, we commend you. The way our society is structured these days, being able to provide your loved one with the assistance they need on your own is truly a privilege. However, going forward, it is important that you remember that in addition to looking after your loved one, you do have to take care of yourself. If you get burned out, you will not be able to help anyone. To prevent this from happening, consider how respite care could be beneficial to both you and your loved one.
At Visiting Angels Bradenton, we provide professional, reliable interim home care. One thing we have seen over and over again is family caregivers feeling guilty about getting professional care for their parent when they need to take some time out for themselves. However, taking a break every now and again is crucial for your emotional, mental and physical health. Taking some you time will help you stay healthy in the long run and you will be able to care for your loved one without ever becoming resentful or falling into denial about your feelings.
How Professional Respite Care Can Help
At Visiting Angels Bradenton, we will meet with your loved one and match them with a professional caregiver from our network of independent senior care professionals. So, whenever you need interim home care services, you can be sure that your loved one will be looked after someone that is compassionate and that agrees with them in general. Compassion and dignity are crucial aspects of proper caregiving.
How do our services work? Simply contact us and we will send out one of our amazing caregivers to look after your loved one. They will provide them with absolutely all the non-medical in-home assistance they need throughout the day. This will free you up to run errands, go to a meeting, go on a vacation or just take some time out to do pretty much anything without worrying about your loved one.
Get Started with Interim Home Care Services in Bradenton, FL Today
Do not get burnt out before you decide to hire some professional respite care. Call our Bradenton, FL office today and we can provide you with some information about interim home care services and we can get started from there.
Serving Bradenton, Bradenton Beach, Bayshore Gardens, Ellenton, Lakewood Ranch, Longboat Key, Palmetto, Parrish and Surrounding Areas
Visiting Angels BRADENTON, FL
4814 26th Street West #A
Bradenton, FL 34207
Phone: 941-758-4500
941-758-4505
NR3021171