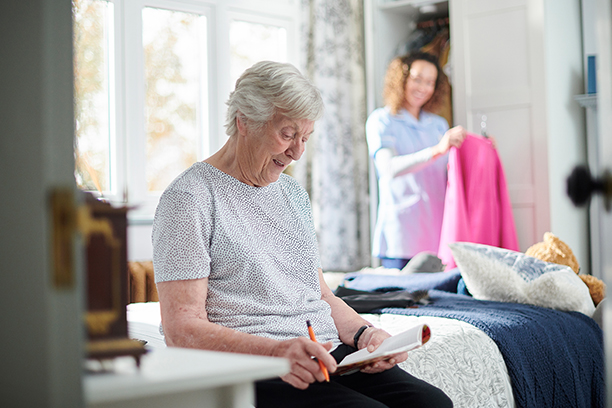 Caring Careers
Visiting Angels Caregiver Career Opportunities:
If you would like to be a Caregiver with a high quality, industry leader and you believe you have what it takes to be held to the highest standards and be recognized as a best in class provider of companionship and homecare, we encourage you to click on this link. Once you have submitted this application we will review your submission. If your application meets our qualifications and standards we will contact you and schedule a personal interview.
Our Mission:
Our mission is to provide non-medical care services for older adults and those in need of short or long term rehabilitation so that they can continue to function with dignity in the safety and comfort of their homes. We will provide best in class quality care that is tailored to meet the specific needs of each client with respect and compassion. Our caregivers are our greatest asset and we set high standards for employment. We provide training to develop and empower caregivers to care for our clients with confidence and integrity.
Job Summary:
The Caregiver is an extended member of the health care team who performs tasks that allow our clients to remain safely and comfortably at home. Their duties include non-medical personal care, assisting the client with their activities of daily living, as well as light cleaning services and joyful companionship.
Job Qualifications:
All Caregivers must be at least 18 years old with a High School diploma (or equivalent). Visiting Angel Caregivers must have at least one (preferably more) year(s) of documented experience providing care in a private home or alternate care setting. Please provide 3 verifiable work references. Our employees must display good emotional and physical health and be able to tolerate much standing, bending and stooping to accomplish daily duties. All Caregivers must be able to lift 25 pounds unassisted. Additionally, our employees must be able to read, follow written and verbal instructions and document simple, factual descriptions of events legibly in English in the reports and logs on a daily basis. All Caregivers must be willing to adhere to Visiting Angels' high standard of providing kind, compassionate care to clients. Due to the nature of our clients' changing needs, we seek employees who can be flexible in accepting assignments with a cooperative attitude in providing service. All prospective Caregivers must meet all Agency requirements including, but not limited to, initial and periodic criminal background checks as well as initial and periodic drug testing.
General Responsibilities:
Personal care assistance to clients including personal hygiene tasks such as bathing, grooming, shampooing, shaving, oral care, toileting, dressing and grooming and incontinence support.
Prepare nutritious meals within the client's diet and assist with eating, when necessary. Wash dishes and clean up kitchen after each meal.
Medication reminders per prescribed schedules.
Assist client with ambulation, transfers and exercises (if appropriate).
Light housekeeping tasks including general cleaning of the rooms where the client spends most of their time or which facilitates client's self-care in the home, dusting, sweeping floors, spot mopping and vacuuming.
Launder client's bed linens and personal clothing on a routine basis.
Assist client in the bathroom or with the use of a commode, bedpan or disposable sanitary products.
Tidy bathroom after use by client, rinse tub or shower after use and wipe spills on sink or floor.
Perform errands or incidental transportation as requested and per Agency policy.
Provide cheerful, positive assistance at all times. Provide joyful companionship.
Answer all care recipients' calls and attend to their requests promptly.
Meet the safety needs of the care recipient and use equipment safely and properly.
Respect and honor client's desire for privacy as well as needs for socialization.
Complete daily log book entries accurately and carry out assignments as requested and identified on the Agency Care Plan.
Notify Visiting Angels office of any acute or pertinent changes in client's condition. Notify Visiting angels of any safety concerns in the home.
Report for duty, properly attired, at the assigned day, time and place. Stay for the entire duration of the scheduled shift.
If this sounds like a perfect career opportunity for you, please submit your application.
Serving the Chicago Metro Area
Visiting Angels
CHICAGO LAKESHORE
2451 N Lincoln Ave #207
Chicago, IL 60614
Phone: 773-394-4186
Fax: 773-345-5000