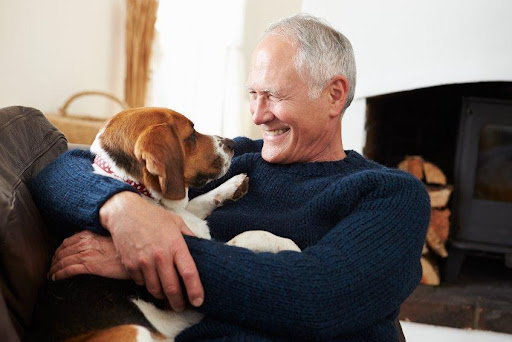 Entertaining Seniors: Animals and Children
As our seniors age, it may seem as if their entertainment options lessen. They can't get out of the house as much on their own, and often their friends are struggling with that too. If they are widowed or their friends are limited, they often don't feel comfortable going to places on their own without a companion. But that doesn't mean they can't have entertainment.
As they age, it's important to include them and help come up with ways to keep their mind stimulated and their mood up. That can mean bringing them to your home for entertainment or bringing the entertainment to them. For some, there is nothing as special as watching a grandchild or a loved one do the things they used to do or doing the things that make them smile. Pets also provide hours of entertainment for seniors; they love to snuggle with them or watch their antics around the house.
There are many ways to incorporate animals and children into entertainment for your seniors.
Include Them in Your Child's Endeavors
Does your child have a dance recital coming up? Though sitting through endless acts on stage might seem like torture to you, you senior loved one might enjoy the artistic endeavor. Is your little one just learning to play soccer? Inviting seniors to their games can provide laughs and entertainment. It also gets them invested. They can see your child progress from kiddie kickers to scoring their first goal at the high school level. It also gives your child someone else to root for them on the sidelines, and another person that believes in them as they pursue a new hobby. If your senior loved one is out of town, have your child call them after the game, and let them know they scored their first goal.
If your beloved senior is not well enough to make it out to these events, order the DVD of the dance recital, and put it into their player for them. Or have your child come over in their costume and perform the dance for them in their living room. Take some video of the soccer match, and head over after the game and show your senior on their iPad. Then send them their own copy of the video, so they can watch it over and over, and show their friends who come to visit.
Having a birthday party for your kid? Invite for your senior loved one. It helps them feel included, and they love to watch the little kids run around. After the guests leave, it gives you someone else to relive the party with and talk about the things that didn't go quite as you expected.
Many seniors also are big on manners. Have them help write thank you notes with your child after the party to all the guests. It is something easy they can do, and helps them connect with your children for entertainment, and helps them feel like they are making a difference.
Have Them Teach a Passion
Our beloved seniors have so much life experience and many skills that the youth today have never learned. Have them teach your children about the "good ole days". Seniors can have a unique perspective on many of the history lessons children are learning in school today. Knowing that their grandparents lived through some of these times can make history seem more real. They also have skills that many kids don't learn in school, such as sewing. That would be a great thing for mom to teach her grandchild. The two could work on producing a project together. Harness the knowledge they have, and the hobbies they love, and have them teach the younger generations.
Adopt a Furry Friend
We all love our pets and seniors are no exception. A cat or dog can provide endless hours of entertainment for your senior. They offer snuggles, but pets also do funny things that your senior will love to tell you about later. Playing fetch can provide hours of entertainment for both the pup and the senior. Walking the dog also gets your seniors out of the house for exercise, and often they can connect with other pet owners on their walks. Find a pet to adopt for your senior and see their eyes light up.
No Commitment
If having a pet is too much of a commitment for your senior, there also are ways they can interact with animals without ownership. For example, they go for a walk in the neighborhood and get to know the nearby dogs that strut on their morning walks each day. If your senior keeps a bag of treats in their pocket, these dogs will become your senior's best friend and seek them out for treats and pets each day.
In addition, there are services that bring pets in for animal therapy. Find one and sign your senior up. Even interacting with an animal for as little as a half hour a week can boost a senior's mood. Many senior centers and libraries also often host therapy pets once a month that your senior can come visit.
If your senior really is a pet lover, they also can volunteer at an animal shelter, visit a cat café, or even hang out at a dog park and watch the pooches frolic.
Less Fuss Pets
While dogs and cats are the most popular, some less intensive pets are great for seniors. Turtles can live in an aquarium and provide less of a risk of tripping over them, and more confined maintenance. Many home care agencies provide options for helping seniors with these pets, including cleaning out their habitats. Fish can also provide entertainment. Get an aquarium for your senior with colorful fish. A Purdue University study showed that Alzheimer's patients with fish tanks were more relaxed and alert, and ate up to 21 percent more food than they had before the fish tanks arrived.
Here to Help
If you are looking for ideas or help with entertaining your senior loved ones, Visiting Angels can help. Visiting Angels serves seniors in the Columbus area. If you think home care would be beneficial for you or your loved one, and are ready to learn more about our customized homecare options, contact us online or at (812) 929-0428.
We offer a complimentary in-home consultation to see what your needs are, and to show you how we can help. We will develop a personalized care plan showing you the specific services your caregiver will provide. Our goal is to ensure local seniors are well cared for and safe in their homes. Contact us today to find out how we can give you peace of mind.