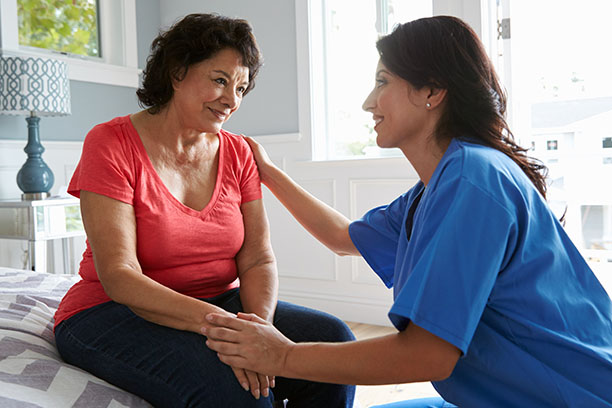 Dementia Care in Columbus, IN
If your loved one has been diagnosed with dementia, you may be wondering about their ability to remain at home for the long run. With professional in-home dementia care services delivered by a trusted care provider, your loved one can continue to enjoy the advantages of being in familiar surroundings. At Visiting Angels® Columbus, IN, we offer specialized care that supports seniors with different cognitive disorders and challenging diagnoses. We can help ensure your loved one stays both safe and comfortable as they grow older at home, even if they are dealing with the difficult circumstances brought on by dementia.
How Our Dementia Care Services Help Family Caregivers
After your loved one is diagnosed with dementia, your caregiving duties may be increased dramatically. Many family caregivers become overwhelmed with responsibilities after a dementia diagnosis, and these conditions can lead to caregiver burnout. Rather than working yourself to exhaustion, you can take advantage of the support our dementia care providers in the Columbus, IN area offer. We will help make your caregiving situation more manageable and your schedule less hectic, so you can focus on what matters most.
About Our Dementia Care Services in Columbus, IN
We always provide care recipients with plans that are tailored to their unique situations. This is especially important for seniors who have received a dementia diagnosis. Rather than starting with a copy-and-pasted program of care, we will consider the progression of the disease, your loved one's current situation, and your family's preferences.
Examples of the different forms of dementia we can accommodate through our services include the following:
Vascular dementia
Frontotemporal dementia
Alzheimer's disease
Lewy bodies dementia
Down syndrome
Mixed dementia
Young-onset dementia
Creutzfeldt-Jakob disease
Huntington's disease
Parkinson's disease dementia
And other forms of dementia
We can make your situation easier by providing you with the in-depth information you need to start setting up care for your loved one. During a consultation that's completely free of charge, we will discuss your loved one's circumstances in detail and lay a solid foundation for their customized care plan. We will also take the time to address all of your family's concerns and answer any questions that come to mind. Then, we can move on to implementing your loved one's care plan and matching them with a talented and compassionate care provider from our local team.
Reach out to Visiting Angels Columbus, IN today to book a dementia care consultation for your loved one in Columbus, IN, Edinburgh, Rushville, Shelbyville, Marion, or a community in the surrounding areas.
Serving Columbus Indiana and surrounding areas
Visiting Angels
COLUMBUS, IN
1007 Central Avenue
Columbus, IN 47201
Phone: 812-929-0428
21-012813-1