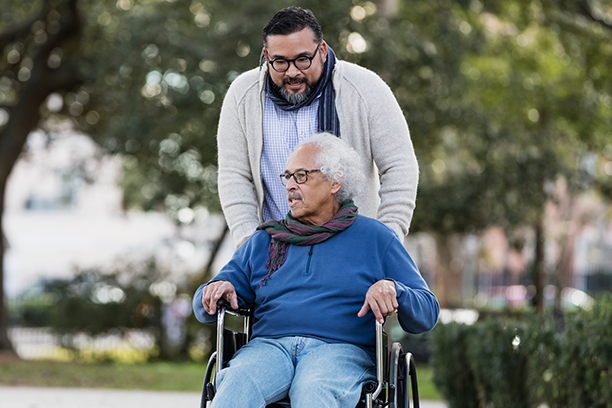 Senior Home Care in Columbus, IN: Our Experience
For senior home care that your family can trust, partner with Visiting Angels® Columbus, IN to meet the age-related needs of your loved one in the comfort of their home. At our locally owned and operated care agency, we believe our industry expertise and reputation is reflected in the wide range of services we offer, as well as the compassionate and respectful attitude of our caregivers. Whether your loved one requires care due to a chronic condition, disability, cognitive decline, or senior isolation, you can rely on us to meet their needs while improving their quality of life at home.
Our Success in Senior Home Care
Thanks to our senior home care services at Visiting Angels Columbus, IN, elderly adults can enjoy the benefits of aging in place while also having their care needs met by an industry professional. We provide customized, high-quality services for seniors living across the local community. This experience has provided us with the chance to support older individuals with varying care requirements, personal risk factors, personalities, and living situations. As a result, we are capable of meeting a variety of needs and special requests through our customized care plans.
We treat each senior as a unique individual and also consider the concerns of their family caregivers and other family members involved in their care. We believe this compassionate approach is what has driven our success in the industry and enabled us to become a source of care that families across the Columbus, IN area look to in times of need.
Our Dedicated Senior Home Care Providers in Columbus, IN
The ideal care provider for your loved one is likely someone who is not only knowledgeable and capable of meeting their needs, but also patient, kind, joyful, and empathetic. Our experience in the industry has shown us that these caregiver traits are essential to the delivery of high-quality care that meets seniors' social and emotional needs in addition to their physical care requirements.
To find the right caregivers for our agency, we utilize a strict vetting system that ensures each care professional we bring onto our team shares our overarching values and our compassion for elderly adults. When you choose to work with us, you can trust that your loved one will be paired with a caregiver who is ready to support them through thick and thin.
For details about our senior home care services in Columbus, IN, Edinburgh, Rushville, Shelbyville, Marion, and nearby communities, book a free consultation with Visiting Angels Columbus, IN today!
---
Senior Home Care FAQ
What Type of Support Can a Caregiver Provide?
Visiting Angels provides a wide range of home care services to help you find the right type of assistance and support for your loved one.
Our core services include companion care, personal care, and respite care.
We also offer a number of specialized senior home care services through Life Care Navigation®, such as Alzheimer's care, dementia care, end of life care, palliative care, transitional care, fall prevention, and assistance with digital technologies.
How Quickly Can I Start Home Care with Visiting Angels?
Visiting Angels delivers senior home care on your schedule. This includes providing our services as soon as possible to families in urgent need of home care.
In most situations, we can provide care within 48 hours of the initial consultation. In many cases, we start care services on the same day.
How will Care Be Personalized for My Loved One?
At Visiting Angels, we understand every individual has unique care needs. Because of this, we're committed to personalizing your loved one's senior home care services.
When we develop a care plan, we will consider factors like their physical and cognitive health, personal habits and preferences, living situation and daily routines, and other factors. We may also consider input from medical professionals, such as their doctors or nurses.
This information, along with input from you and your loved one, will be used to create a one-of-a-kind care plan. We will tailor our services according to your loved one's needs, schedule care visits around their routines, and develop unique care directives to match their personality and lifestyle.
What Happens if My Care Needs Change Over Time?
Many seniors see their care needs evolve over time and may require longer or more frequent care visits as they age. Often, they will also require new types of care services or changes to the services they already receive.
With Visiting Angels, care plans can be easily changed according to your loved one's needs. We perform regular check-in visits and provide ongoing monitoring, and we remain in frequent contact with families. This way, you're always up to date and informed. If changes occur in your loved one's health, lifestyle, or care preferences, we can adjust their care plan accordingly.
What Is Select Your Caregiver®?
Select Your Caregiver® makes it easy to find the right senior home care provider for your loved one.
When we develop your loved one's customized care plan, we will consider the unique qualities your loved one needs in a caregiver. We will then match your loved one with a qualified care provider who possesses these qualities.
Through our Select Your Caregiver® program, you and your loved one will be able to choose their senior home care provider. Whenever possible, you'll have the opportunity to interview your loved one's caregiver before care services begin. Additionally, your local Visiting Angels office will be in close contact during the initial stages of care to ensure we found the right fit.
Serving Columbus Indiana and surrounding areas
Visiting Angels
COLUMBUS, IN
1007 Central Avenue
Columbus, IN 47201
Phone: 812-929-0428
21-012813-1