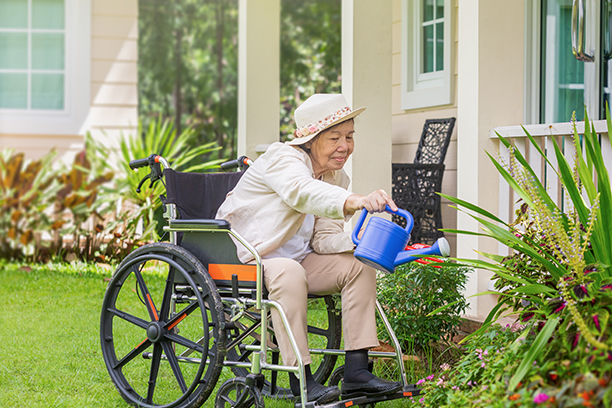 Visiting Angels Farmington Home Care Services
Home Care Services in Farmington, MO
If you, or a senior loved one, need home care services in Farmington, Visiting Angels is here to be of service. Visiting Angels is a non-medical senior home care provider. Seniors who want to age in place, or seniors who just need help around their home, can depend on our caregivers. All in all, we strive to provide our clients with high-quality care services.
At Visiting Angels Farmington we understand how age can affect a person both mentally and physically. As time goes on, simple tasks seniors were once capable of doing may become a daily challenge.
If you are thinking about helping your senior loved one by taking on the role of the family caregiver, you should think about the responsibilities that come with the role. As time goes on, your aging loved one's needs may become too demanding for you to consistently provide for. Also, remember the fact that you would still need to take care of your own needs and life while caring for your loved one. instead of doing everything alone, you can reach out to Visiting Angels Farmington for support.
Personalized Care for Farmington Residents
Visiting Angels understands how important it is to be able to remain at home, which is why we are dedicated to making sure that your loved one can age in place for as long as possible. Because everyone has their own unique needs and challenges, we do our best to address every client's unique needs. With our personalized approach to senior care, your aging loved one's needs and preferences are prioritized so that they can feel as comfortable as possible.
When you choose Visiting Angels Farmington for senior home care, your loved one receives a personalized care plan and a professional caregiver. Our caregivers make sure to treat their clients, and their families, with the utmost dignity and compassion.
To accommodate your senior loved one's needs, we provide several non-medical care services. Our living assistance services include:
Does your loved one need assistance for a few hours a day or around the clock 24/7? Either way, we can provide professional caregivers who are in the Farmington, MO community. Our experienced caregivers will provide the senior home care your loved one needs.
Contacting Visiting Angels
You can schedule an initial meeting with Visiting Angels Farmington when you are ready. We begin by having one of our service coordinators visit you in your home. During our first meeting we learn more about you and your loved one; plus, we learn about the specific challenges your loved one needs assistance with.
After considering your senior loved one's specific challenges, we take all that we have learned to develop a personalized plan of care. Once the plan is ready, we provide a suitable caregiver who will have the most compatibility with you and your family.
At Visiting Angels Farmington, we strive to provide you and your family peace of mind knowing that your loved one will have the senior care they need. If you are ready to schedule an initial meeting or if you want to learn more about our senior home care services, contact us today.
Serving Iron, St. Francois, Ste. Genevieve, Perry, and Cape Girardeau Counties and Surrounding Areas
Visiting Angels
FARMINGTON/CAPE GIRARDEAU, MO
1276 W Liberty St
Farmington, MO 63640
Phone: 573-664-1722