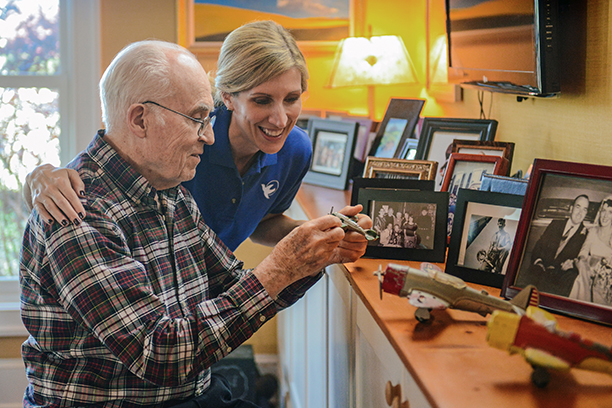 Home Care Services for Seniors in Iron County
Professional Senior Care in Iron County, MO
As people get older, they contemplate how they would like to spend their senior years. Some seniors are fine with the idea of aging in a nursing home. Other seniors prefer to age in the comfort of home. As time goes on, more seniors have been deciding to age at home.
If your senior loved one has decided to age in place, you are most likely looking into options to help your loved one. For instance, you can become your senior loved one's caregiver. By becoming a family caregiver, you become responsible for your aging loved one. In other words, you would need to find a way to balance your personal life with your caregiver responsibilities. If you are open to other options, you can decide to hire a professional caregiver instead.
Consider reaching out to Visiting Angels for support. Visiting Angels Farmington, MO offers various non-medical home care services for seniors aging in place within Iron County. A professional caregiver can provide your loved one with the assistance needed as they age in place for as long as possible.
Personalized Senior Care in Iron County, MO
Your senior loved one does not need to leave their home to receive the support they need. Visiting Angels' professional caregivers can provide seniors with reliable home care services. Our caregivers strive to help their clients live comfortable and independent lives at home.
Furthermore, we understand that every person has unique needs and challenges. To provide our clients with the care they need, we create a personalized care plan for every client. With our personalized approach to senior care, families can rest assured knowing their aging loved ones will receive the needed assistance.
Visiting Angels Farmington, MO creates personalized care plans by gathering information on every client. The care plans are also flexible; meaning, the plans will adapt to a senior's changing needs. After all, a senior will need help with different things as time goes on. A senior will not only experience physical changes with aging, but they will also experience mental changes. It makes sense that a senior's care plan addresses their most recent needs, challenges, preferences, and so on.
Visiting Angels Farmington, MO offers several non-medical senior care services. Our living assistance services include:
Personal Home Care
Alzheimer's Care
Dementia Care
Respite Care
Elderly Companion Care
Certified Palliative Care
And much more
Visiting Angels' professional caregivers are reliable and trustworthy. Whether your senior loved one needs assistance for a few hours a day or around the clock 24/7, our caregivers will do their best to provide the needed support. Our caregivers will treat your elderly loved one with the utmost respect and compassion while attending to their needs.
Getting Started with Visiting Angels Farmington, MO
Getting started with Visiting Angels is simple. To work with Visiting Angels Farmington, MO, you can begin by scheduling an initial meeting with us. You can decide on the date and time that works best for your schedule. Once the time comes for our first meeting, one of our service coordinators will visit your elderly loved one's home.
During our first consultation, we will learn about your loved one. As mentioned previously, we will use the information to develop a customized plan of care for your loved one. We will gather information regarding your loved one's challenges, needs, medical conditions, routines, and so on. If your loved one wants to highlight some specific struggles, they need help with, they are welcome to do so. You and your loved one can also bring up any questions or concerns regarding our home care services.
All in all, families, and their aging loved ones, can trust Visiting Angels. If you are ready to schedule an initial meeting, or if you want to learn more about our home care services, contact us.
Serving Iron, St. Francois, Ste. Genevieve, Perry, and Cape Girardeau Counties and Surrounding Areas
Visiting Angels
FARMINGTON/CAPE GIRARDEAU, MO
1276 W Liberty St
Farmington, MO 63640
Phone: 573-664-1722