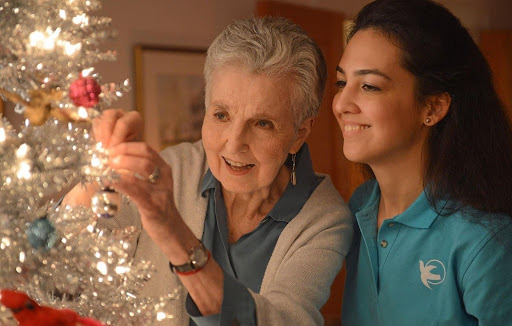 A Day in the Life of a Visiting Angels Caregiver
Professional caregiving is a rewarding job in which no day is the same as the next. Suppose you have a passion for caring for others and love working in a rewarding but challenging and ever-changing industry. In that case, you should consider a job as a Visiting Angels Flagstaff, Arizona senior care professional.
Learn more about the different areas of care we offer our clients and a typical day for our caring professionals!
The Visiting Angels Flagstaff Promise
One of the main reasons our caregiver roles are so diverse is that we promise personalized care to our clients and families. Our caregivers are matched with clients according to the client's specific needs and level of care. Our home care providers at Visiting Angels Flagstaff are dedicated people with a genuine love for senior care. We carefully select exceptional individuals who want to make a difference in the daily lives of seniors – they do what it takes to ensure a safe, comfortable environment in which clients can age in a place where they feel happy and secure.
In addition to customized care and specially matched caregivers, our team provides 24/7/365 phone support for clients and families. This means a client may reach out to our team for help at unusual hours. It's an honor for our team to be there when our clients and families need us the most. It's one reason the role is so rewarding!
Day In The Life of Our Caregivers
Visiting Angels Flagstaff provides several types of eldercare, including companion care, non-medical home care, personal care services, and more. Here's what new caregivers can expect in a day's work in these areas.
Companion Care
Visiting Angels Flagstaff offers seniors companionship and assistance with everyday tasks. The best part is that we make the time spent as enjoyable as possible for our clients. A day at work for companion caregivers may start by arriving for breakfast with a senior client. After some toast and a cup of coffee, you may spend some time talking with your client and watching morning talk shows.
While your client gets ready for the day, you may tidy up their home, schedule deliveries, or help with other household tasks. Next, you may enjoy a walk outside for some fresh air and exercise, followed by a lunch of sandwiches and fruit.
Afternoons are often spent enjoying time with your client: playing cards, working puzzles, looking through photo albums, and talking about their favorite memories. Although your day may start or end at different times and activities vary from client to client, care sometimes looks like a fun day with a friend.
Non-Medical In-Home Care
As an in-home caregiver, time with your client may vary more substantially. In-home care providers help with grooming and hygiene, help in the bathroom, bathing and dressing, medicine reminders, and walking and mobility. We offer full-time, part-time, and 24-hour services. In-home care clients typically need a higher level of care than companion care clients, and your day will be more varied.
In-home caregivers' days are always unique. For instance, you may have a part-time client where you help them in the evenings–planning dinner, helping them change into bedclothes, and brushing their teeth. With a full-time client, you may be the caregiver for an entire day while family caregivers are at work.
Personal Care Services
Personal care services, also known as private duty care, are specialized non-medical care to help your clients live safely in their homes. Personal care services are somewhat like a hybrid of in-home care and companion care. You'll be responsible for helping your client with hygiene, bathing, grooming, and medication reminders, but you also may help with meal prep and social companionship.
A day in the life of a personal care service caregiver may start with errands, including grocery and medication pickup, followed by a mid-day visit to spend the afternoon with your client. You may help them prepare lunch, remind them to take their medicine, and enjoy some television in the afternoon. Personal care is highly personalized and flexible.
Start Your Good Days with Visiting Angels Flagstaff
We're searching for professional senior caregivers who are passionate about providing comfort and care for our community's elderly neighbors and their families. Does a flexible, dynamic job sound like a fantastic choice? Visit our website and learn how to apply to join our team!