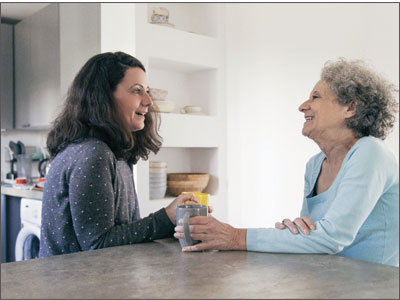 Coping as the Family Caregiver
As defined by the Family Caregiver Alliance, a caregiver is an unpaid person who assists someone else with activities of daily living and medical tasks. The role of a family caregiver for an elderly parent often falls upon the shoulders of the eldest daughter or daughter-in-law.
Family caregivers have an increased risk of experiencing caregiver burnout. They must learn ways to prevent caregiver burnout and prioritize their own health needs. Learning to cope not only alleviates caregiver burnout but also prevents elder abuse.
November is National Family Caregivers Month. It's a time to recognize, support, and encourage the numerous family caregivers nationwide. If you are a family caregiver feeling overwhelmed, here are four tips to help you cope with your many responsibilities.
Set Clear Boundaries
One way for family caregivers to cope is to set clear boundaries. Boundaries are essential from the get-go. However, if you've been a family caregiver for some time and have yet to establish healthy boundaries, it's not too late to do so. An excellent place to start is to consider your limitations. How much hands-on care can you safely provide without hurting yourself? How much time can you devote to caregiving tasks without sacrificing your health, including sleep? Then, evaluate where you need to set your boundaries. Have a gentle conversation with your loved one, explain the situation, and work together to find a solution that gives you the necessary limits.
Say "No"
Family caregivers are generally very giving people. It's difficult for them to say "no" to a need, especially if it involves a family member. Yet, caregiving demands a lot of time. Time is a non-renewable resource, meaning something eventually has to give to prevent caregiver burnout. Another way family caregivers can cope is to say "no" to requests that aren't possible in this season of life. No one else knows the demands you carry. People will always continue to ask more of you, especially if you never say "no". Permit yourself to decline requests that aren't life-giving to you right now.
Make Time for Yourself
Family caregivers are guilty of putting themselves last. They want to ensure that everyone else is safe, healthy, and happy. As a result, they often neglect their physical, emotional, spiritual, and mental well-being. Over time, they gain weight. They stop exercising and lose touch with friends because they are busy providing care. They can even lose their sense of self by putting aside their leisure pursuits. Exercising, maintaining friendships, and engaging in hobbies all help to prevent caregiver burnout. Another way family caregivers can cope is to make time for themselves. Find small ways to make time for just you, such as waking up early to go for a 20-minute walk or texting a friend to maintain that connection.
Seek Support
Finally, family caregivers can cope by seeking support. Area Agency on Aging of Tarrant County offers to fund various services and programs for adults aged 60 and older, including respite for caregivers. The Alzheimer's Association North Central Texas Chapter provides caregiver support groups and early-stage social engagement groups for individuals with Alzheimer's disease. Dale Brock, Visiting Angels Fort Worth and Southlake owner, is a proud North Central Texas Chapter board member. In addition, family caregivers can find a wealth of support and resources at Dementia Friendly Fort Worth. Legal Aid of Northwest Texas offers free civil legal assistance to low-income Texans. Also, families of veterans can find help and support at Tarrant County.
Another place to seek support is with Visiting Angels Fort Worth. We provide various elderly home care services that help seniors maintain their independence in the comfort of their homes. Our professional caregivers can support you in your role as a family caregiver while giving you some time back to take care of yourself.
We understand that it can be challenging to decide to get started with home care. On the one hand, you feel overwhelmed by your responsibilities as a family caregiver and desperately need outside support. Also, you worry about how your loved one will adapt to their new care provider while maintaining independence in their home. You can count on us to answer all your questions and address your concerns so that you can confidently proceed with care.
In addition, we offer complimentary care consultations throughout the Fort Worth area, visiting seniors and their families in person to provide them with the information they need to make the best care decisions possible. To learn more, don't hesitate to contact us today by calling 817-877-1616.