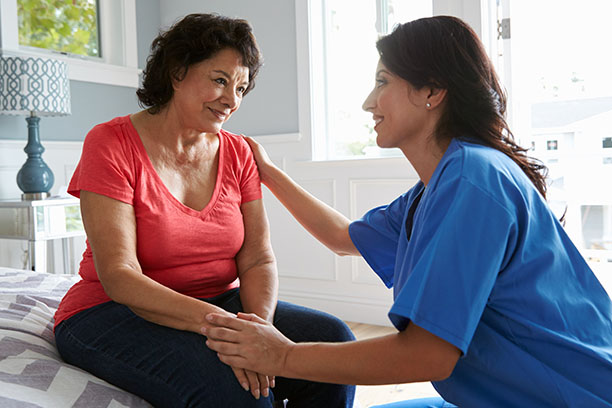 Dementia Care
With more than 5 million Americans living with dementia, finding experienced and caring support for seniors in their homes is crucial. The team of caregivers at Visiting Angels Fort Worth is not only well trained in dementia care best practices, they are also equipped with state of the art technology that assures our clients are receiving the very best home care in our area.

Our Caregiver Difference
Our dementia care services start with our staff. Each caregiver is carefully selected for their patience, compassion, and dedication to relationship building. Without our caregivers, our agency would be unable to provide services that seniors respond to and that families love.

Once we hire the best caregivers, we get to work with assuring they are receiving education on positive dementia approaches. From using positive touch to engaging activities, deescalating frustrating situations to calming anxious seniors, our caregivers are equipped to meet your loved one where they are at emotionally, physically and cognitively.

Our Technology Difference
Visiting Angels Fort Worth has taken the time to research the best dementia care tools on the market. For the past few years, we have been honored to be an authorized AlzBetter provider. The AlzBetter program and app uses technology to bring dementia care best practices into the hands of our caregivers and staff.

This modern approach to dementia care allows our caregivers to not only receive reliable information about the disease, it also provides realistic tactics to build relationships with clients living with dementia in a home environment. This partnership with AlzBetter has given our caregivers the opportunity to try new activities and approaches to engage our clients who live with dementia, as well as to foster an even better relationship with each of our seniors.

Our Personalized Approach Difference
Beyond our staff and our technology, our dementia care services are rooted in our dedication to providing personalized care. Each of our clients are different, requiring unique approaches, schedules, and care. Our staff, led by our Client Care Coordinators, works with family members to determine the history and preferences of the client. We work hard to find out little details that we can use to be a better support and caregiver for our clients. Personalized care means better care, especially when it comes to dementia.
At Visiting Angels, we wholeheartedly support one-on-one care. With a memory care facility, the most you can expect is that they provide safety for your loved one. With dementia care at home, you benefit from activities adapted to each individual along with one-on-one care, creating a higher quality of life than a facility can provide.

Call us today to tell us more about your aging loved one and how we can best support you and your family.
Serving Fort Worth and the Surrounding Areas
Visiting Angels
FT WORTH, TX
1020 Summit Ave
Ft Worth, TX 76102
Phone: 817-877-1616
Fax: 817-334-7994