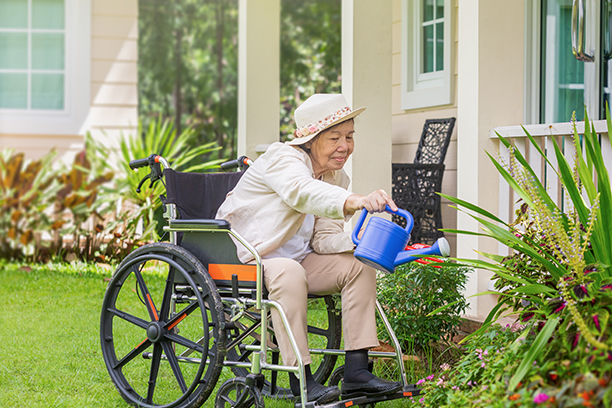 Alzheimers Services for Fort Worth
Burning the Candle at Both Ends, and the Middle? Alzheimer's Services Can Help Ease Your Stress
Most people would probably assume that caring for someone with Alzheimer's presents a unique set of challenges. The responsibility becomes even more demanding when the patient happens to be a parent or loved one. The emotional toll of parenting your own parent is something that shouldn't be overlooked. To top it off, many caregivers are also raising families of their own and possibly working as well. So how do you keep from getting burn out? Alzheimer's services from agencies, such as Visiting Angels Fort Worth, can offer a much needed respite for family caregivers.
When you find yourself in the role of caregiver for a parent with Alzheimer's there are some important things to keep in mind. For example, people who are diagnosed with Alzheimer's live an average of 8-10 years or more after diagnosis. Taking on the role of caregiver is a long-term commitment. In order to offer assistance to your loved one, you have to make sure you're taking care of yourself. Allowing yourself to ask for help is a good place to start. Visiting Angels Fort Worth has professional caregivers that are experienced and trained in providing Alzheimer's care services so you know your loved one will be cared for with skill and knowledge.
Another important fact to remember is that because Alzheimer's is a progressive disease, the amount of care your loved one needs will increase over time. While checking in weekly may be enough in the beginning, eventually a patient with Alzheimer's will need care around the clock in order to ensure their safety. Few family members are prepared to offer that level of assistance on their own. Moving your mom or dad into your own home can help for a while, but at what cost? It can also be challenging, both emotionally and financially, to move your family member to a care facility that offers Alzheimer's services. Thankfully Visiting Angels Fort Worth can provide a solution.
Professional caregivers, such as those at Visiting Angels Fort Worth, can provide Alzheimer's services that are customized to help your loved one at home, regardless of the stage of their disease. Our elder care professionals are specially trained to work with Alzheimer's patients and provide guidance for their family members. The relationship that often forms between caregivers and their clients not only benefits your loved one by providing social interaction and companionship, but gives you a much needed break to focus on other areas of your life.
Keeping yourself healthy is not easy when you spend your days caring for others, but making time for yourself has to be a priority. Finding a regular form of exercise is a good outlet for stress. Getting emotional support from friends or a professional therapist can also help keep you in a good frame of mind. Allowing yourself to seek assistance from outside sources, both for yourself and your loved one, will benefit you both in the long run. Alzheimer's services from Visiting Angels Fort Worth is a valuable local resource. Give us a call, we can lend a hand.
Serving Fort Worth and the Surrounding Areas
Visiting Angels
FT WORTH, TX
1020 Summit Ave
Ft Worth, TX 76102
Phone: 817-877-1616
Fax: 817-334-7994