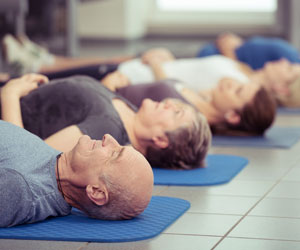 Four Resolutions for Seniors
The New Year marks the start of a blank slate, an opportunity to start again. It's the perfect time to set a goal or resolution, including seniors. Regardless of your view on creating resolutions, setting goals to live a more healthy lifestyle should be a priority for all seniors. Our bodies and minds undergo a wide variety of changes as we age. However, by making healthy choices, seniors can negate some of the negative aspects of aging and live satisfying lives well into their golden years.
As you reflect on this past year and anticipate the year ahead, perhaps it's time you prioritize your health. Here are four resolutions for seniors that focus on prioritizing their well-being.

Resolve to Improve Your Sleep
Many seniors experience interrupted sleep or insomnia regularly. Yet, sleep is important even in older age. Poor sleep can result in depression, memory deficits, daytime sleepiness, and an increased risk of falls. Resolve to improve your sleep this year. Develop healthy sleep habits, such as avoiding screens an hour before bed, limiting your caffeine consumption, and creating a soothing bedtime routine. If you continue to struggle with insomnia or other sleep disturbances, you might need help from a specialist, such as the North Texas Lung & Sleep Clinic. Another place to turn to is the Low T Center, which specializes in men's care.
Resolve to Move

Another important component of a healthy lifestyle is exercise. Regular exercise lowers the risk of a variety of health conditions, including heart disease, diabetes, dementia, and Alzheimer's disease. Exercise can also help improve your sleep and increase your appetite for healthier foods. Resolve to move your body regularly this year. Take advantage of Fort Worth's free fitness memberships for seniors. Sign up for a senior fitness program with a senior fitness specialist at Future Fitness Training. Join your local YMCA and enroll in a group exercise class to help you stay accountable. If you aren't in the habit of exercising, consult your primary care physician before beginning a new routine.
Resolve to Eat Healthier
In addition to sleep and exercise, nutrition plays an important role in healthy aging. Low appetite is common among seniors, making nutrition all the more important in older age. Proper nutrition gives the body adequate energy so that you want to move. It also helps with weight control and can prevent diseases like osteoporosis, high blood pressure, heart disease, and type 2 diabetes. Resolve to choose nutrition this year. Fill up on fresh fruits, vegetables, whole grains, and lean protein. If you struggle with meal planning and preparation, sign up for Fresh N Lean, a meal delivery program with a healthy twist. Another similar service is MealPro. Meals on Wheels of Tarrant County provides home-delivered meals to seniors who are homebound or have other limitations.
Resolve to Care for Your Mental Health
Lastly, don't neglect your mental health this year. Common mental health concerns among older adults include isolation, anxiety, depression, affective disorders, and dementia. Poor mental health affects a senior's physical health, and vice versa. Resolve to care for your mental health. Take a free guided meditation class at Sahaja Yoga Meditation, which offers both online and in-person classes. Book a private relaxation session at Sound Waves Mindful Meditation. Blue Moon Senior Counseling Services provides supportive counseling and can help seniors struggling with depression, anxiety, and grief.
As you look ahead this year, perhaps it's time you resolve to get the help you need at home. Visiting Angels Fort Worth is here for you. We provide personalized care for seniors that makes aging in place possible. Our compassionate caregivers are prepared to assist elderly adults in Fort Worth, Aledo, Annetta, Benbrook, Lakeside, River Oaks, Westworth Village, White Settlement, Willow Park, and nearby towns with their unique needs and age-related challenges. Our home care services are an optimal fit for a variety of situations, including help with bathing, dressing, grooming, preparing meals, running errands, and light housekeeping. All of our elderly care services are flexible and can be combined to create a customized care plan that perfectly suits your needs. To learn more, please contact us today by calling 817-877-1616.