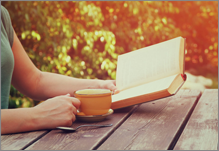 Keep the Benefits of Summer Going Strong
Summer offers older adults a wide range of benefits, especially for those who increase the amount of time they spend outdoors. Even in as little as 20 to 30 minutes spent outside, three times a week, it allows older adults to absorb the many benefits of nature. Nature has a way of combatting negative emotions, such as depression, anxiety, or anger. Brief bouts in the sunshine allow the skin to absorb vitamin D from the sun's rays. Nature can help ward off memory loss and help lower blood pressure. It can also boost the immune system, as older adults breathe in the fresh air and healthy chemicals released by plants.
Summer is also a busier season. There's often more to do in the summer months, from farmer's markets to tending your own garden in the backyard. More families visit one another during the summer, making the most out of the time off between school years. Neighborhoods bustle with lemonade stands, bikers, walkers, and everything in between. The end of summer can bring about feelings of sadness and unsettledness, leaving many older adults in a funk.
As summer begins to fade into fall within the next few weeks, it's important for older adults to have a plan to help them stay healthy and strong. Here are four tips to keep the benefits of summer going strong.
Take Care of Your Body
No matter the season, taking care of your body will only boost your overall health and well-being. Your physical health plays a huge role in your emotional health, and vice versa. Continue to eat a healthy diet and drink plenty of water. Be mindful of why you're eating, finding alternative ways to cope with feelings of boredom or sadness. Continue to fit exercise into your daily life. Finally, continue to spend time outdoors. The autumn season often provides a reprieve from the heat and humidity, giving older adults more opportunities to head outside than the dog days of summer.
Create a Fall/Winter Bucket List
Some older adults struggle at the end of the summer season because it means that another year is almost over. Yet, there are still over three months of the year to fully enjoy. Instead of staying in a funk, think through things you would like to do in the upcoming fall and winter seasons. Activities to consider include going for a fall foliage drive, participating in your neighborhood's trick-or-treat, decorating for the holidays, sipping apple cider with a friend, making a s'more over a bonfire, carving a pumpkin, or making your favorite seasonal recipes. Whatever is on your bucket list, be sure to write it down and post it in a prominent location in your home to keep you on track.
Plant a Fall Garden
Another great way to keep the benefits of summer going strong is to plant a fall garden. Cool-season crops thrive in the fall, allowing you to enjoy fresh vegetables well past the last frost date. Seeds or plants to try include beets, carrots, collards, radishes, broccoli, and spinach. If outdoor gardening is too burdensome, you can still enjoy the benefits of the outdoors by bringing nature inside. Try a windowsill herb garden or liven up your home with indoor plants.
Preserve Your Summer Memories
The end of a season is a wonderful time to reflect on the highs and lows you experienced. Instead of letting feelings of sadness or loneliness fester, spend the first couple weeks of fall reflecting on the summer. Journal about your memories. Print photos and create a scrapbook about your summer adventures. Proudly display trinkets or souvenirs you picked up over the summer. However you spent your summer deserves to be celebrated and remembered.
Visiting Angels Fort Worth is here to help seniors keep the benefits of summer going strong. Whether you need someone to escort you on a walk so that you stay active, or need help with meal planning and preparation, our home care services are customized to meet your needs. We are one of the most trusted resources for elderly care services. Our caregiver companions possess character traits that we would want to find in someone caring for our own loved ones. When you choose us for your home care needs, you can rest assured that you will receive compassionate, dignified care. To learn more about us and what we can provide for you, please get in touch with us today by calling 817-877-1616.