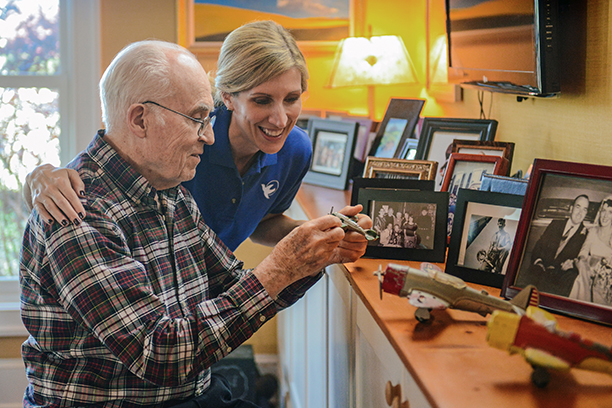 Care For Seniors in Fresno, CA
What is Respite Care?
Respite care for seniors is temporary care that allows the primary caregiver a much-needed break. With Visiting Angels of Fresno, CA, you can resume your daily activities that slipped away without worrying about your loved one.
Enabling safe interaction with a caregiver can be a positive experience and allows seniors to interact with someone other than their primary caregiver. The caregiver can assist with a variety of household activities or just provide company.

Seniors can receive our care for seniors in many locations other than their home, including medical facilities and assisted living facilities.
Why Do I Need Respite Care?
Caring for a loved one can be draining and time away is a positive experience for both of you. In fact, caregiving can be so burdensome that family caregivers often experience depression. A small minority even see their health decline.
Taking some time for yourself will be beneficial to your loved one, as you will be able to focus your full attention on their care after your brief reprieve. Fatigue and frustration from caregiving are common and our care can give you a chance to rejuvenate yourself.
Our care for seniors will enable you to get back to your daily activities. Visiting Angels of Fresno professional caregivers can help with household duties, personal care, or just be good company so that you can take a breather.
When is Care Available?
Visiting Angels respite care follows both your and your loved one's schedules. You can select either temporary or long-term care available every day of the year, 24/7. We provide care in Fresno and the surrounding areas and will coordinate a plan that fits you and your loved one.
How Many Hours of Respite Care Do I Need?
This is dependent on many different factors, including the kind of care your loved one requires. After our free in home visit where we learn about yours and your loved one's needs, we create a care plan.

It should be noted that your loved one's care is always in a state of flux. As he or she gets older or experiences decline in health more care will probably be necessary.
How Much Does Care Cost?
Our care for seniors varies in cost depending on your loved one's needs and frequency of care. These are the main determinants of cost. When developing the care plan, we work with your budget.
To schedule a free in home evaluation, please contact Visiting Angels of Fresno.
Serving Fresno, Clovis and the Surrounding Areas
Visiting Angels
FRESNO, CA
2350 W Shaw Ave #129
Fresno, CA 93711
Phone: 559-500-2102
Fax: 213-985-2519
HCO #104700016