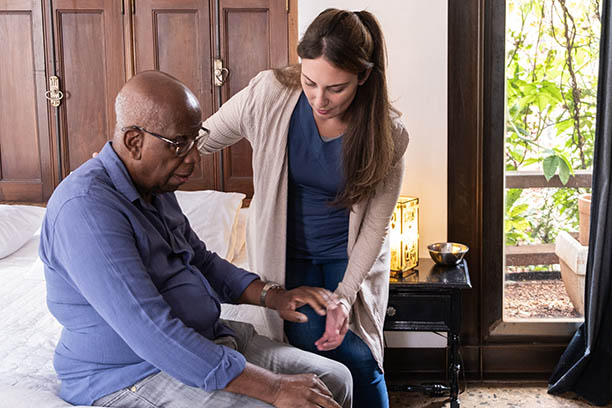 Palliative Care in Fresno, CA and Surrounding Areas
Visiting Angels Fresno, CA provides a program to help benefit you and your loved one.
Palliative care and hospice care have many similarities. At their core, both seek to relieve discomfort and improve the overall quality of life. However, hospice care is typically reserved for those who are nearing the end of life. Traditionally, this type of care is for anyone who needs care based on their comfort and well-being, regardless of their life expectancy.
At Visiting Angels of Fresno, our program is based on this traditional model of care. Our commitment to you does not change. Our goal is to enlighten our clients lives through quality specializedvcare and assistance.
Visiting Angels of Fresno, CA Palliative Care Program
Visiting Angels Life Care Navigation is a collection of senior care services and certified palliative care is one of them. Life Care Navigation also includes end of life care, which can provide your loved one with comforting care and assistance during the end of life process.
Our Certification Program trains our caregivers on a philosophy of care that is supportive, soothing, comforting, and which approaches care with a holistic mindset. Our approach to care entails a mission of restoring hope and healing assistance.
To make this possible our focus is on an array of care needs, including the physical, emotional, social, and spiritual needs of those in our care. We address the:
physical care needs of seniors by recognizing and responding to signs common among the elderly, providing care to comfort our clients.

emotional needs of our clients by adopting a compassionate approach, supporting seniors who may be suffering from depression, loneliness, stress, or anxiety.

social needs of elderly adults by building relationships with our clients and their families, and by providing those in our care with companionship and conversation.

spiritual needs of seniors by restoring hope to seniors' lives, helping them find comfort and relief from age-related difficulties and treating each client with dignity and respect.
Getting Started!
We provide your loved one with the care they deserve. We will be happy to answer any questions you may have about our Certified Palliative Care program and coordinate a meeting with one of our care directors in the comfort of your loved one's home. Our plans are customized to fit your loved one's specific needs, the option to Select Your Caregiver, and a compassionate, client-centered approach.
Contact Visiting Angels of Fresno to schedule a free care assessment and learn more about our services.
Serving Fresno, Clovis and the Surrounding Areas
Visiting Angels
FRESNO, CA
2350 W Shaw Ave #129
Fresno, CA 93711
Phone: 559-500-2102
Fax: 213-985-2519
HCO #104700016