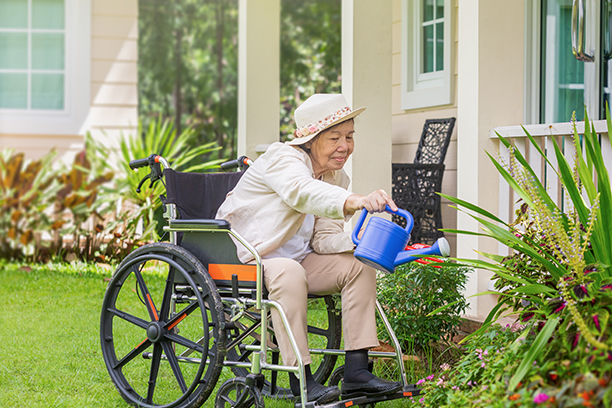 Senior Support Services: Light Housekeeping for Seniors in Fresno, CA and the Surrounding Area
AARP reports that 3 out of 4 older adults wish to age in place. Aging in place is the ability for a senior to remain in their preferred home or residence for as long as possible. Through home care agencies like Visiting Angels of Fresno, that dream has come true for thousands of seniors across the nation.
As a senior grows older, they may develop age-related difficulties that can make it more difficult for them to live independently at home. One of the most taxing, yet most important day-to-day tasks is keeping the house tidy. Maintaining a clean space helps a senior live a healthy and fulfilling life. A dirty, unkempt space can come with germs, bacteria, and allergens that can jeopardize your loved one's health. Also, a cluttered space can lead to an increased risk of falling. Falling can cause a myriad of physical and emotional ailments, including hip fractures, head injuries, and depression.
One option that you have to help your loved one maintain the home is to hire a maid. But at Visiting Angels of Fresno, we can provide so much more.
How Our Senior Support Services Help Families in Fresno, Clovis, and Nearby Cities
Our caregivers aren't just maids, they're able to administer important senior support services that your loved one needs. As a result, you won't have to spend more money bringing another person into the home to care for your loved one. A professional caregiver can also provide advice towards fall prevention, to keep your loved one safe.
Many tasks around the home can be accomplished by a Visiting Angel, including vacuuming, dusting, laundry, bedmaking, taking out the trash, cleaning the countertops, and changing the sheets.
Heavy-duty, more strenuous tasks such as washing the windows, mowing the lawn, or cleaning the carpets aren't in our caregivers' job descriptions. Our caregivers focus on daily tasks throughout the home that boost a senior's well-being. They also can provide in home care and the companionship that your loved one may be lacking in their day-to-day life.
Some of the senior support services that we can provide include healthy meal preparation and planning, dignified bathing, dressing, and grooming care, walking assistance, wandering prevention, and errand running. Uplifting Fresno's senior community brings joy to our team's professional, compassionate caregivers.
Do you believe that your loved one would benefit from our senior support services, including housekeeping? If so, contact our offices at your earliest convenience. You can schedule a free in-home consultation with one of our team members.
During the initial consultation, one of our senior care professionals will discuss your loved one's health and wellness needs, schedule preferences, and how we can best cater to your needs. We want to establish a foundation of in home care that lasts long-term.
Free Consultation
For more information on light housekeeping and other senior support services offered by Visiting Angels of Fresno call 559-550-6573.
Serving Fresno, Clovis and the Surrounding Areas
Visiting Angels
FRESNO, CA
2350 W Shaw Ave #129
Fresno, CA 93711
Phone: 559-500-2102
Fax: 213-985-2519
HCO #104700016