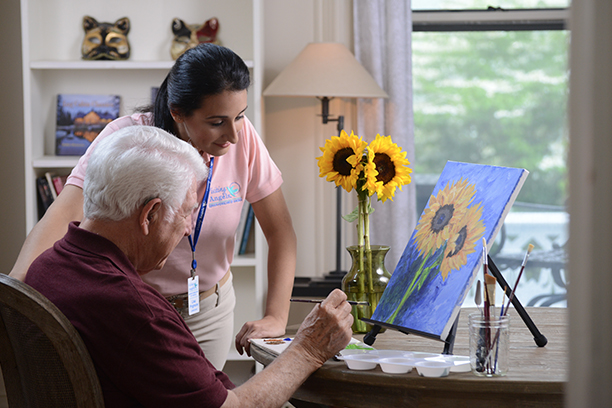 How Alzheimer's Care Services Can Help Manage Anger in Fresno, CA
If you have a loved one who has been diagnosed with Alzheimer's, then you know that they can suffer from sudden anger outbursts and unexpected aggressive behavior. Witnessing and handling this behavior is challenging. It requires special understanding and practiced reactions. At Visiting Angels of Fresno, our Alzheimer's care professionals are adept in such situations. We can help you learn how to defuse and avoid such situations by recognizing triggers and learning how to calm your loved one when outbursts occur.
Understanding and Recognizing Anger Triggers
There are three main triggers for anger outbursts among Alzheimer's sufferers. At Visiting Angels of Fresno, our Alzheimer's care services professionals understand and recognize these triggers, so they can defuse situations and redirect behavior.
Physical Triggers: Frustrations at an inability to do simple tasks or feeling physical discomfort, illness, soreness, dizziness, nausea, or fatigue.

Emotional Triggers: Loneliness, boredom, and even over-stimulation can trigger anger.

Mental Triggers: The most common trigger is confusion, followed by lack of concentration, mixed up memories, or a sudden change in environment or caregiver.
As you become more familiar with your loved one's anger triggers, you'll be better prepared to manage their anger, many times preventing an outburst.
Detect. Defuse. Prevent. Calm.
When a loved one with Alzheimer's is on the verge of an outburst, knowing what to do is important. We use the defect, defuse, prevent and calm method to prevent outbursts. These are among the most important skills our Alzheimer's care services professionals possess. Our Alzheimer's care services help Fresno families handle upsetting situations every day because our caregivers are well-equipped to handle anger outbursts or aggressive behavior.
Suggestions for Handling Verbal and Physical Aggression
When your loved one becomes verbally or physically aggressive or angry, it's important that you and other family members know how to respond and manage such behavior. How can you respond?
Detect the trigger. When you recognize the trigger, you will be able to dispel their anger, defusing the situation.

Do not engage in physical contact.

Do not react to violence with force unless your personal safety or the safety of someone else is at risk. Trying to physically control someone with Alzheimer's while they are upset will only increase their frustration, anger, and aggression.

Do not show that you are upset, angry, or afraid. These reactions are easily detected and can often escalate aggression.

Be kind. Speak in a calm, firm, but reassuring tone. Don't argue or try to reason. Be sympathetic and understanding toward their anger and frustration without being patronizing.

Never scold or punish.
Caring for a loved one with Alzheimer's can be challenging, but Alzheimer's care from Visiting Angels of Fresno will provide your loved one with the compassionate home care they deserve. For more information about our Alzheimer's care services, call 559-550-6573.
Serving Fresno, Clovis and the Surrounding Areas
Visiting Angels
FRESNO, CA
2350 W Shaw Ave #129
Fresno, CA 93711
Phone: 559-500-2102
Fax: 213-985-2519
HCO #104700016