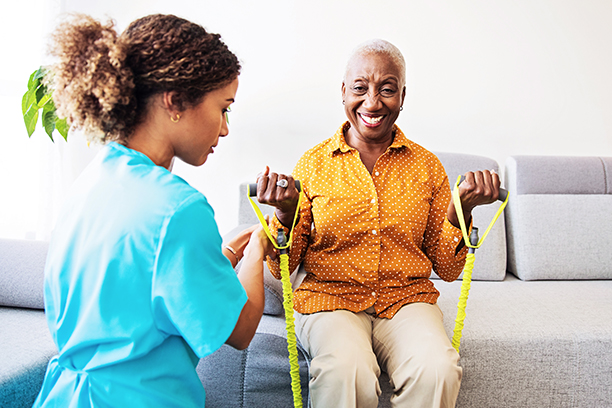 Post-Operative Care in Fresno, CA
After a person goes through a surgical procedure, the days following a surgical procedure are key to helping your loved one thrive and recover accordingly. They need that support in order to adhere to the doctor's orders and make sure that the surgery is a successful one. Whether your loved one needs post-operative care at home or at a rehab facility, a Visiting Angels caregiver can provide the quality care that your loved one needs.
A person can go through surgery for many different reasons. The surgery may be a part of a preventative health plan and has been planned for months in advance. On the other hand, the surgery could be done in an emergency situation to save the life of someone suffering from a severe illness. No matter what reason the surgery is being done, the patient is going to have to do some kind of post-operative home care in order to recover as efficiently as possible.
You may be asking yourself, "What exactly is post-operative care?" The experts at Visiting Angels are here to answer your frequently asked questions about the subject.
What is Post-Operative Care?
Post-operative care is the care that a patient needs while they recover from a recent surgical procedure. The specific care that they need is dependent on a couple of different factors:
Their health and wellness needs prior to getting surgery

The type of surgery
The main goals of post-operative care are to avoid complications and promote healing. With post-operative care, the surgery has a better chance of being successful for the long-term. This home care, in turn, will improve the client's overall health.
What Should I Ask My Doctor About Post-Operative Care?
In order to make sure that your post-operative home care is efficient, it's important to understand what you need to do during the days, weeks, and months after surgery.
Great questions to ask your doctor about post-op care are:
How long is my recovery period expected to be?

Will I need to rent or purchase any specific medical equipment, like a walker, wheelchair or any other assistive or adaptive tools to use during my recovery?

What are some specific actions or activities that I should or should not do following surgery?
Common Operations That Need Post-Operative Care
It's important to understand that all surgical procedures are going to need post-op care in some way. Even if it's brief, recovery is going to be needed. Understanding how much post-op home care you're going to need may be difficult to do before the surgery is done. But, after the surgery happens, it'll be easier to accurately assess it. Operations that affect your mobility, like a hip replacement, will be much easier to recover from if you have a reliable home care caretaker to help you recover as efficiently as possible.
If you're interested in learning more about our post-operative care, contact us at your earliest convenience.
Serving Fresno, Clovis and the Surrounding Areas
Visiting Angels
FRESNO, CA
2350 W Shaw Ave #129
Fresno, CA 93711
Phone: 559-500-2102
Fax: 213-985-2519
HCO #104700016