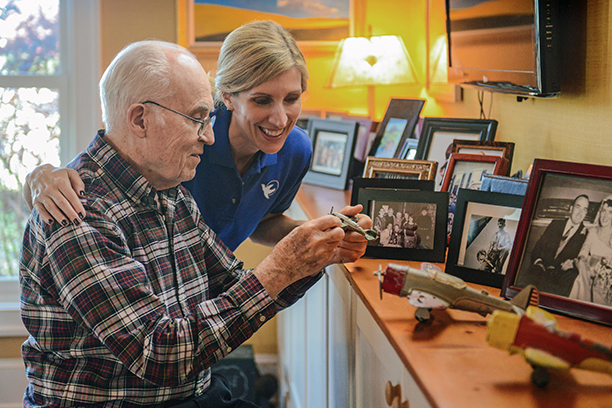 Visiting Angels Fresno In Fresno, CA
Debbie Singh
Debbie Singh is a registered nurse and the owner of Visiting Angels – a local in-home care agency. Debbie has served the local community in this capacity for over 6 years and previously worked in hospital settings primarily in critical care and outpatient surgical areas. As a direct care provider herself, Debbie saw the pressing need for seniors in her community to find options for assistance in order to remain at home. Having found Visiting Angels, with a mission to help seniors remain safely at home, she realized that this could be the solution to stop the "revolving door" of patients she often encountered in the hospital.
"Having a solid, logical plan to remain at home as we age in place is essential in keeping our loved ones happy and healthy where they are most comfortable." Having done this for some years now, Debbie's years of experience in senior care fosters a sense of service towards others as she helps so many families find solutions for aging in place.
Additionally, Debbie serves her community further by volunteering with the Alzheimer's Association as a Community Educator and providing education through various service works in Rotary and with Visiting Angels. "Education and understanding care needs is the key to helping our seniors remain safely at home. It brings me great joy to help families, caregivers, and care recipients better understand their care needs to ensure a higher quality of life." Debbie is always looking for innovative ways to deliver the best care possible to those in her community.
In her spare time, Debbie enjoys spending time with her husband of almost 20 years, their two daughters, and their two dogs. Whenever possible, Debbie enjoys going to the movies and exploring all the beauty that California has to offer – whether it's their mountains so nearby or their beaches.
Karina Olaguez
Karina Olaguez has been a member of the Fresno Visiting Angels team for nearly five years. During her time, she has worn many hats, but now leads the team as the Office Manager. She prides herself on fostering a professional and supportive working environment. Karina is a graduate of California State University, Northridge. Prior to joining the team, Karina managed multiple teams for non profits organizations to help kids in the most needed communities. Her background provides her with a unique ability to connect with people (clients and caregivers alike) and coordinate care in a way that is both compassionate and effective. She enjoys working with the community and helping to better the lives of our clients and employees. When not at work, Karina loves to spend time with family and friends and lives life to the fullest!
Curtis Trapp
Curtis Trapp is the on-call operator for nights and weekends, he takes the after hours phone calls and works to support the caregiving staff whenever needed and has been doing so since the beginning of 2021. Curtis has a long history of customer service, having worked in the hospitality industry for over 15 years. When not working, Curtis can be found in the mountains hiking or rock climbing, or at home reading.
Serving Fresno, Clovis and the Surrounding Areas
Visiting Angels FRESNO, CA
2350 W Shaw Ave #129
Fresno, CA 93711
Phone: 559-550-6573
HCO #104700016