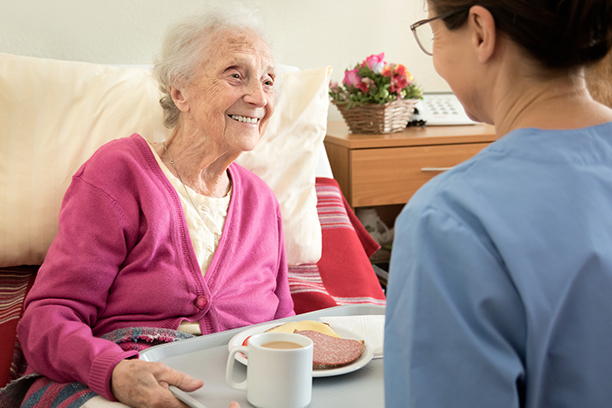 Our Home Care Services Support Seniors in Fresno, CA and the Surrounding Area with Post-Stroke Recovery Care
Visiting Angels of Fresno provides personalized post-stroke home care services for seniors in Fresno, Clovis, and nearby cities.
After dealing with a stroke, your loved one may be left with temporary memory loss, partial paralysis, a speech impairment, or more. You may be concerned about their well-being and whether they would be able to take care of themselves. To give them the best chance of recovery, we recommend hiring a professional caregiver through Visiting Angels of Fresno. Our stroke recovery care helps your loved one safely recover at home.
Our Caregivers Help Their Fresno Clients Recover from a Stroke
Our stroke recovery care is implemented by skilled and compassionate local caregivers. Our Visiting Angels will take the necessary steps needed to prevent a second stroke with our home care services.
To best fit the needs of our Fresno clients, we offer professional senior care that can be personalized to fit your loved one's preferences. These services include bathing, grooming, and toileting assistance, healthy meal planning, medication and hydration reminders, transportation to therapies and appointments, mobility assistance, and more. Our caregivers will also provide friendly companionship and daily conversation with your loved one. We strive to better the lives of the Fresno senior community.
How to Get Started with Stroke Recovery Care
To help your loved one return to their normal life, contact Visiting Angels of Fresno at your earliest convenience. We can help you schedule a free, in-home, no-obligation consultation with one of our in home care professionals. During the consultation, our care professionals will discuss your loved one's options for home care services, answer any lingering questions, and begin crafting your loved one's personalized care plan. Afterward, we can begin to search for a professional caregiver. You will have the final say on who you would like to invite into your home.
Call our office today at 559-550-6573 or fill out our contact form to learn more about Visiting Angels of Fresno's stroke recovery care.
Serving Fresno, Clovis and the Surrounding Areas
Visiting Angels
FRESNO, CA
2350 W Shaw Ave #129
Fresno, CA 93711
Phone: 559-500-2102
Fax: 213-985-2519
HCO #104700016