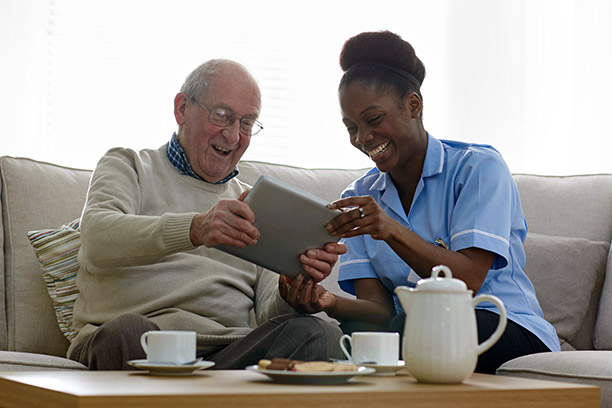 Alzheimer's Care Services for Seniors in Gadsden, AL
At Visiting Angels, we offer Alzheimer's care services that aim to improve the quality of life of seniors living with Alzheimer's in Gadsden, AL
Getting the proper care for your senior loved one after they've been diagnosed with Alzheimer's gives them the freedom to carry on living the kind of life they wish in the familiar surroundings of their home. Our qualified and compassionate caregivers provide in home services so that your senior doesn't have to leave the comfort of their home. Visiting Angels, Gadsen will help your senior loved one with dementia and any respite care that they often so desperately need and make their quality of life that much better.
Visiting Angels provides Alzheimer's home care and so much more as part of a comprehensive collection of care programs called Life Care Navigation. Furthermore, these programs offers more in-depth care for patients suffering from dementia and other debilitating memory conditions.
About Visiting Angels Alzheimer's Care Services
Receiving the initial Alzheimer's diagnosis can be a very troubling event for most people with a senior loved one in their care and making the right choice for in-home care can be a daunting task. Many working families find this adds increased levels of stress to their lives, especially for those that are separated by long distances. The hard choices that come with providing the right kind of care for someone with Alzheimer's can make it seem like memory care centers or nursing homes are the only options. Visiting Angels is here to let you know that there is another way.
At Visiting Angels, Gadsden, we make it possible for your senior loved one to age where they feel most comfortable – at home where they are most at ease. Studies have shown that being in familiar surrounds greatly affects the well-being of individuals with Alzheimer's. Often times moving seniors with the condition into new surroundings, such as to nursing homes, can trigger confusion, anxiety, and many other agitative feelings. Our Alzheimer's care services ensure that your senior loved one can stay where they most feel comfortable.
Starting Out with Senior Care from Visiting Angels Gadsden
Finding out if home care services from Visiting Angels is right for your senior living with Alzheimer's is as simple as a meeting with one of our directors, in the comfort of your home. A director will assess your loved one's care needs and present all options available to you so that you can make the most educated decision.
Each case is personal, and we make sure that we personalize each client's needs with services that cater to their symptoms, personality, and daily routines.
You can learn more about our Alzheimer's care services by contacting our Gadsden, AL office today.
Serving Blount, Marshall, Etowah Counties and the surrounding areas
Visiting Angels
GADSDEN, AL
815 Riverbend Dr #A
Gadsden, AL 35901
Phone: 256-507-0083