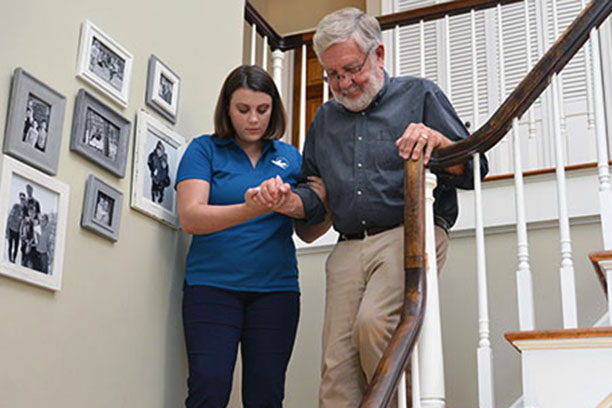 Safe and Steady Fall Prevention Program from Visiting Angels Gadsden
Personal care services from Visiting Angels include fall prevention solutions for seniors in Gadsden, AL
Falls and fall-related injuries as a consequence are one of the biggest health concerns for older adults. This is because a fall can significantly change one's lifestyle – for the worse. Seniors who sustain an injury caused by a fall often need a long time to fully recover, not to mention costly hospital bills. To make matters worse, fractures or concussions caused by falls can lead to a significantly reduced quality of life, loss of independence, and the need for personal care services.
And the problems don't stop there. Many aging adults who fall once often develop a fear of falling – a phobia that can make seniors avoid leaving the house, decline social invitations, and miss out on quality family time. What's more, this behavior can ultimately lead to anxiety, loneliness, isolation, and depression.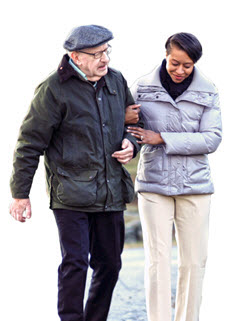 Falls Can be Life-Altering
Let's look at how serious fall-related risks are to older adults:
One in three aging adults falls every year and falls will cause one in five to sustain serious injuries like a broken hip, fracture, and/or concussion

Seniors who fall once are more likely to fall again

More than 800,000 persons are being hospitalized every year as a direct result of falls

Full recovery from a fall can take up to a year and many seniors require long-term facilitated care in order to restore their health
However bleak this may all sound, fall prevention is an important issue that must be addressed and Visiting Angels can help. Our fall prevention program is specially designed for promoting senior mobility and preventing falls. Your loved one can boost safety and continue living independently at home with the help of one of our dedicated care providers.
How Personal Care Services Can Help Your Loved One Stay Safe
The first step in minimizing the risk of falls is identifying risk factors in your loved one and their surroundings. Risk factors vary from person to person, but in most cases include medical problems and physical conditions such as arthritis, osteoporosis, poor vision, taking multiple medications or experiencing medication side effects that affect balance, dehydration, and more. On top of that, inadequate home features like loose cords and rugs and the lack of grab bars in key areas of the house present significant risk factors. Our caregivers are trained and skilled in recognizing and eliminating those risks.
At Visiting Angels Gadsden, we are dedicated to raising awareness of the importance of fall prevention by educating families and caregivers alike. Learn more about our personal care services and how we can help your loved one prevent falls by calling our local office today. We are here for you!
Download Your Free Safe & Steady Fall Prevention Resource Guide today.
Serving Blount, Marshall, Etowah Counties and the surrounding areas
Visiting Angels
GADSDEN, AL
815 Riverbend Dr #A
Gadsden, AL 35901
Phone: 256-507-0083