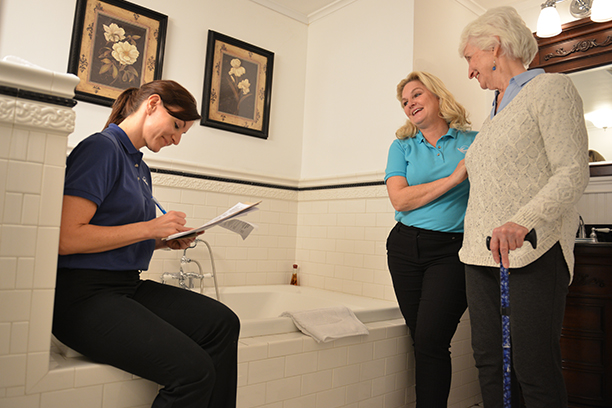 Meet the Staff of Visiting Angels Greater New Orleans, LA
Visiting Angels Greater New Orleans, LA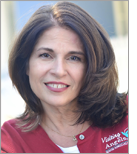 Jaime Maxwell- Owner/Director
Jaime started her work in the human service field at the age of 12 when she spent every night for over a year with her 90 year old neighbor who was afraid to be alone after her husband had passed. A vaso-vagal condition ended her nursing education in its third year, but even as Jaime was employed as a Financial Consultant for E.F. Hutton, her service was to the elderly community. Jaime's first priority has always been customer service and treating people with dignity and respect. In the year 2000, she accepted a position as Marketing Director at a top notch local assisted living facility. Jaime's empathy and compassion made her a good match to helping seniors give up their homes to move into their new assisted living apartments. Jaime had a vision of how she would provide customer service to clients, as well as, treat employees with respect and compassion if she owned that company. After some serious thought and need for , she went on a mission searching for her own opportunity that would be personally satisfying and would give back to her community.

Jaime came across Visiting Angels and researched the franchise extensively before purchasing in 2006. Jaime has strong family connections with Alzheimer's and Parkinson's that led her on the path of servicing families and providing them with the top notch care they deserve. Jaime has walked down the path so many of our clients are experiencing. Jaime has listened to many families, often expressing frustration that they had few alternatives other than to place their loved ones in a nursing facility. Before long, Jaime's dream was realized with the families her agency began to care for, with the quality of angel caregivers that are nurtured and trained and has established some great relationships.

In the spring of 2006, Jaime resigned from her position with the assisted living and purchased Visiting Angels of GNO. Jaime's hard work, dedication, and commitment to her clients have earned her an excellent reputation in the community. Since going into business, her agency has served thousands of families in the Greater New Orleans area and her clientele continues to expand to the North Shore with a new office in Mandeville.

After 12 years in the New Orleans office Jaime was asked by an owner to buy her agency because she wished to retire, so Visiting Angels of the Northshore, LA opened in November, 2017. Jaime loves the Old Mandeville office and great folks on the Northshore, but still travels back to her house in Harahan near her Mom & the New Orleans Angels on Hickory Avenue. She feels she's truly fulfilling her purpose in life serving the seniors in the community and their families.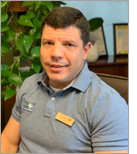 Robert Chilton, LMSW-Director
Robert has served as a social worker for over 10 years, specializing in HIV, mental health, and hospice care and grief counseling. He grew up in the Gentilly neighborhood of New Orleans and is a graduate of St. Frances Cabrini Elementary and Brother Martin High School. Robert earned his Eagle Scout in 1996. He is also a veteran having served in the US Naval Reserve and Army National Guard. Robert graduated from SUNO with his BSW in 2009 and MSW in 2011 and was a recipient of the Millie M. Charles Leadership Award. He is an active member of the National Association of Social Workers (NASW), Louisiana Chapter. Robert brings his expertise and love of helping others to Visiting Angels as the Care Manager to work closely with clients to advocate their needs and foster positive relations. His caring manner and desire to serve others is evident in his interactions with our clients and their families. On his off time, he enjoys scuba diving and bodybuilding. Robert lives in Chalmette with his spouse and three canine children.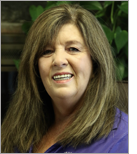 Connie Corkern-Accountant
Connie joined Visiting Angels in 2017 as our Accountant with over 25 years' experience in Accounting and Office Management and 10 years in Human Resources. She ensures the company runs smoothly and is in compliance with all regulations. She has thoroughly enjoyed becoming involved in the caregiving field. She serves as the Visiting Angels team captain for the Alzheimer's Walk and brings in thousands of dollars annually for Alzheimer's research. She is a proud mother of one daughter and three grandchildren, who she loves spending time with. She had been a member of the Krewe of Aquarius for 14 years serving and has served as float captain for the past 8 years. In her free time, she loves watching football and is very passionate about the Saints.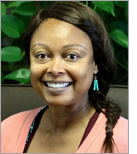 Erin Hamilton-Care Coordinator
Erin Hamilton has over 20 years' experience in the Health Care Field and an Associate's Degree in Business from Los Angeles Trade Technical College. She has served as an account executive, developer of marketing, and resource to others for the education of services covered under Medicare, Medicaid, and private insurance. She joined Visiting Angels in 2018 to share her caring, compassionate soul with those she serves. As a Care Coordinator, she collaborates closely with hospitals, hospice, skilled nursing facilities, physicians, and assisted living facilities for transitioning of our clients into their own homes. She utilizes her marketing skills for the promotion of business with these facilities, as well. In her free time, she enjoys bike riding, Pilates, and long walks in the park.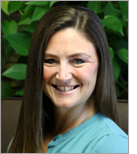 Kari L. Romero-Caregiver Recruiter/Client Liaison
Kari grew up in a military family and lived in various places on the East Coast before moving to Louisiana. Kari joined the Visiting Angels Team in January 2019 with over 27 years of experience in the Human Services field. Kari has served in numerous supervisory roles in the human services field with those with Development Disabilities. She has experience as a Support Coordinator with Easterseals of Louisiana, Resource Specialist/Operation Family Caregiver Coach at Virginia Veteran and Family Supports, Coordinator at Hope House Foundation for those with disabilities, Day Support Supervisor at Hampton/Newport News Community Services Board , Florida Program Administrator, Florida Program Administrator at Bethesda Lutheran Homes and Services for developmental disabilities, and Senior Program Director at Bay Cove Human Services. Kari earned a Bachelor of Science degree from Old Dominion University in Human Services Counseling with a concentration in Special Education. At Visiting Angels, Kari works diligently to recruit only the best caregivers and ensures their thorough training. She ensures our clients are matched with just the right angel to enhance their lives. She is a military spouse and the mother of three beautiful daughters. In her spare time, she enjoys boating/fishing and coaching girl's lacrosse.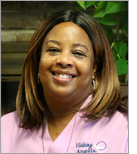 Gina Martin-Schedule Manager
Gina Martin has been with Visiting Angels since 2017 and serves as a vital part of the Angel team by devoting her vast experience to client relations and ensuring our clients are paired with just the right Angel. She utilizes her quick thinking skills to easily maneuver client schedules and plan caregiver and client meet and greets to become acquainted. She is a Certified Nursing Assistant and began her career as a caregiver in a nursing home. From there, she went on to obtain an Associates, Bachelor, and Master's Degree in Emergency Management. She served as the resident advisor and Director of Outreach for The Coventry House for homeless youth. Utilizing her love for helping others working, she worked with the People's Hurricane Relief Fund as an advocate from those affected by Hurricane Katrina. Gina is the proud mother and grandmother of two children and three grandchildren. In her free time, she enjoys watching her grandchildren play sports and travel. She is a die-hard fan of the New Orleans Saints.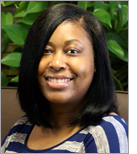 Yvonne Withrow-Schedule Manager
A native of New Orleans, Yvonne Withrow comes to Visiting Angels with over 10 years' experience in the Medical Field. Her credentials include an Associated Degree as both a Registered Medical Assistant and a Surgical Technician, serving both the Northshore and the Southshore. She has served as a guest speaker at Blue Cliff College for upcoming medical assistants. As a young child, Yvonne always knew she wanted to work in a field that helped others. She takes pride in her job as a Schedule Manager at Visiting Angels. Yvonne's bubbly personality makes her a joy to her clients, caregivers, and co-workers. Yvonne has two beautiful children she adores. She loves to cook, bake, and write poetry.
Serving Greater New Orleans and the River Region
Visiting Angels
GREATER NEW ORLEANS, LA
1929 Hickory Ave
New Orleans, LA 70123
Phone: 504-737-0522
Fax: 985-764-4004