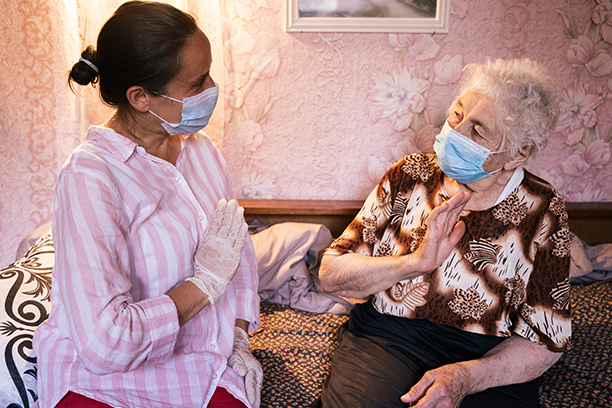 About Us
Background
Visiting Angels is a senior in home care company that provides services in South Austin (Oak Hills, Belterra, Circle C, Onion Creek, Creedmoor, McKinney Falls, Southpark Meadows), Manchaca, Dripping Springs, Buda, Kyle, Bastrop, San Marcos, Gonzales, Kingsbury, Cedar Creek, Luling, Lockhart, Driftwood, McDade, Harwood, Flatonia and surrounding areas. We serve the elderly community by providing a much needed non-medical living assistance service that will help adults to continue living in their own home and familiar surroundings.
The owners and operators of Visiting Angels in Gonzales are sisters who have a personal interest in this area. Along with their children and spouses, the sisters cared for their parents at their own home till their passing. Mr. Dechman had Alzheimer's that continued for 8 years before he passed. At that point, family had the ongoing care of assisting Mrs. Dechman for 6 years. She began having strokes and Lewy Body Dementia. This was a very trying time for the family and the sisters saw a great need for non-medical homecare services to assist families with caring for their loved ones.
Mij's background is in the health care field as an Occupational Therapist Assistant. She worked for Gonzales Independent School District for 19 years, working with disabled children in the classroom. She then continued her profession in the nursing home field providing rehabilitation to assist patients in regaining their previous status and to return to their homes and families.
Jimmie Lee's background is in the legal field as a Legal Assistant. She worked for the prestigious law firm Baker Botts in Austin TX. She also worked for the State of Texas in the Disability services. She along with her sister cared for their parents for 10 years prior to their passing.
The Visiting Angels office in Gonzales is a part of a nationwide franchised network, which now exist in 44 states and Canada.
The personalized screening system is designed to maximize the client's piece of mind. Clients have the opportunity to interview any caregiver whom is referred to them. The criminal background screening service is the best in the industry. However, most emphasis is placed on the intangible traits in a caregiver which will mean so much in the day-to-day experience, such as a caring personality, previous experience in private duty homecare, desire to help people and often a family experience of caring for a loved one. Our caregivers are a diverse group with varying levels of experience. We will select the caregivers who have the experience necessary to best fulfill your loved one's individual needs. Best of all, the client will have the opportunity to choose the caregiver after a personal interview, if so desired.
The Visiting Angels philosophy is that the client is in charge of everything. Unlike some nursing agencies, Visiting Angels will not dictate a schedule to the client. They believe it is their job to adjust to the client's schedule and to see to it that the client remains comfortable in their own home. The needs of our clients are first priority.
Services Include:
We are available for:
Assistance with grooming and hygiene
Mornings, Afternoons, Evenings
Meal Preparation
Temporary or long-term
Light housekeeping
Weekday, Weekends, and Holidays
Errands/transportation
Sleep over care
Companionship
Respite for family
Medication Reminders
24 hour care
Escort to Appointments
If you have any questions about our service or to arrange care, please call Mij and Jimmie Lee toll free at (855) 859-6989 or (830) 672-6900.
Office Staff
Mij Dechman- Administrator
Jimmie Lee Riverkamp – Director
Courtney Williams – Alternate Administrator
Curt Pish – Office Manager
Serving South Austin, Manchaca, Dripping Springs, Bastrop, San Marcos, Gonzales, Luling, Lockhart, Flatonia and Surrounding Areas.
Visiting Angels Gonzales, TX
9028 State Hwy 304
Harwood, TX 78632
Phone: 830-672-6900
Toll Free: 855-859-6989