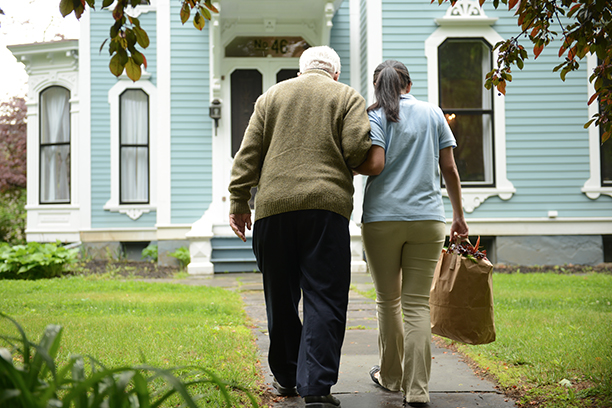 Our Character
Compassionate Living Assistance Provided by Visiting Angels Gonzales
The character driven living assistance provided by Visiting Angels Gonzales has made us a trusted local resource for non medical in home care. Our philosophy of providing experienced care with dignity and respect allows us to focus on the whole person. Everyone wants a caregiver with prior experience and knowledge of home care, that's a given. We believe it's equally important to hire professional caregivers who are passionate about providing services in a kind and respectful manner.
The Angel companions from Visiting Angels Gonzales provide invaluable assistance to individuals in Muldoon, Mustang Ridge, Niederwald, Paige, Red Rock and nearby towns. Our caregivers possess the qualities we would look for in someone we want caring for our own family. The in-depth interview process we use makes sure that our potential elder care professionals have prior experience and a clean record. Secondly, we look for caregivers with outgoing personalities who have a natural ability to make people feel at ease. Providing in home living assistance for elderly clients is a very personal situation and Visiting Angels Gonzales caregivers are sensitive to their client's needs.
The plans from Visiting Angels Gonzales can focus on a variety of concerns. Some types of living assistance that our Angel companions thoughtfully provide include meal preparation, to ensure your loved one is having healthy meals that address their individual dietary concerns. Assistance dressing is often helpful for clients with limited mobility or arthritis. Transportation to and from doctors visits and errands is necessary for clients who no longer drive. The flexible living assistance plans from Visiting Angels Gonzales allow you to choose the services that will be most beneficial to your loved one.
Sometimes having a companion for your loved one is all the living assistance that's needed. The compassionate professionals from Visiting Angels Gonzales are happy to spend time going for walks, playing cards, working on puzzles or engaging in meaningful conversation with your loved one. Because our Angel companions are so invested in their clients happiness, friendships often develop. It's not uncommon for us to hear that our caregivers have become "like family" to their clients. The living assistance professionals from Visiting Angels Gonzales see their job as more than work, it's an opportunity to make a difference in their client's lives.
If you're looking for compassionate living assistance for a loved one, look no further than Visiting Angels Gonzales. Call our office today to learn more.
Serving South Austin, Manchaca, Dripping Springs, Bastrop, San Marcos, Gonzales, Luling, Lockhart, Flatonia and Surrounding Areas.
Visiting Angels
GONZALES, TX
9028 State Hwy 304
Harwood, TX 78632
Phone: 830-672-6900
Toll Free: 855-859-6989
Fax: 830-672-6904