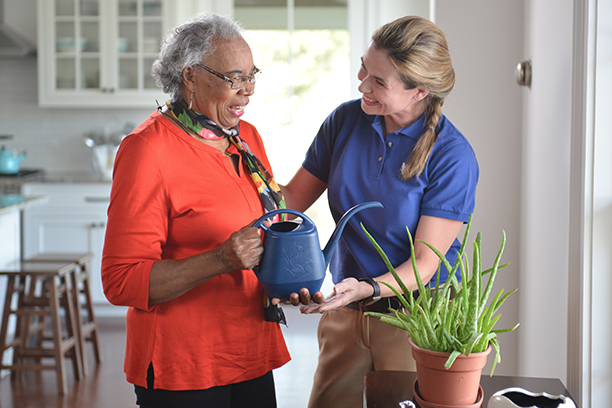 Private Duty Care
Invaluable Private Duty Care From Visiting Angels Gonzales
Private duty care in home is the perfect solution when a loved one needs assistance and you aren't able to be there in person. Visiting Angels Gonzales is here to lend a hand when time constraints and personal commitments won't allow you to personally take care of a family member. Private duty care from Visiting Angels Gonzales is a valuable resource to families in Rosanky, San Marcos, Uhland, Waelder, West Point and areas close by.
Our private duty care from Visiting Angels Gonzales includes respite for family caregivers, custodial care, after-stroke care, and hospice support. We have helped many individuals with conditions such as Alzheimer's, dementia, Parkinson's Disease, Multiple Sclerosis, Cancer, Diabetes and Chronic Obstructive Pulmonary Disease, to name a few. Our private duty care plans are customized to fit the unique needs and circumstances surrounding your loved one. Visiting Angels Gonzales plans are always focused on the individual.
Private duty care from Visiting Angels Gonzales is flexible and your plan can be adjusted over time as your loved one's needs change. Initially you may need assistance only a few times per week, while eventually your loved one may require more frequent care. Or vice versa, a family member may need extra help after a hospital stay and be able to taper down assistance from there. Either way, you have the flexibility to adjust your private duty care plan from Visiting Angels Gonzales as needed.
The private duty care professionals from Visiting Angels Gonzales can aid your loved one with a wide range of activities. They will happily assist your family member with preparation of nutritious meals and lively dinner conversation. They can lend a hand with housework such as laundry and doing the dishes. They can help with personal care such as hygiene assistance and showering. Perhaps your loved one likes to go for a walk after dinner, our Angel companions can help. What ever your private duty care needs, the older care professionals from Visiting Angels Gonzales are happy to be of assistance.
Visiting Angels Gonzales is proud to be able to offer private duty care according to your schedule. We will never ask your loved one to deviate from familiar, comforting routines. We are committed to working with you to ensure that your family member's schedule remains intact.
Please contact Visiting Angels Gonzales today to learn more about the private duty care we offer.
Serving South Austin, Manchaca, Dripping Springs, Bastrop, San Marcos, Gonzales, Luling, Lockhart, Flatonia and Surrounding Areas.
Visiting Angels
GONZALES, TX
9028 State Hwy 304
Harwood, TX 78632
Phone: 830-672-6900
Toll Free: 855-859-6989
Fax: 830-672-6904