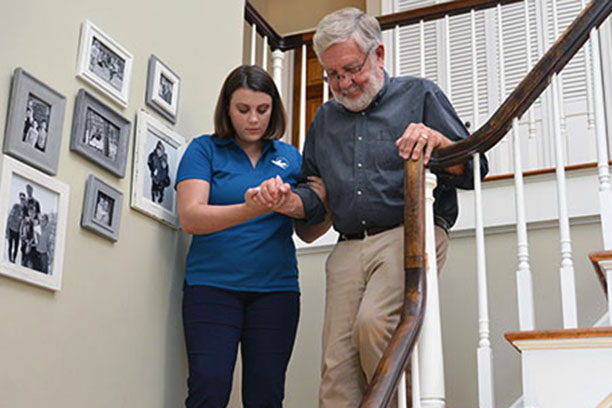 Elder Care Assistance from Visiting Angels Helps Seniors in Hoboken, NJ and the Surrounding Area Prevent Falls
Each year, millions of seniors fall. While some falls are not serious, others cause injuries, such as knee and hip fractures, that can take months and years to rehabilitate. Here are some facts about the need of fall safety for the elderly:
Every year, 1 in 3 older adults fall and 1 in 5 sustain a serious injury such as a broken hip, fracture, concussion, and other injuries

Those who fall once are more likely to fall again

More than 800,000 people are hospitalized for falls each year

Recovery from injuries, including hip fractures, can take up to a year in a long-term care facility and many people who fall never go home again
Falls and balance problems are one of the main reasons why many older adults lose their independence. In addition to causing a physical injury, falls can significantly change a person's quality of life, impacting them emotionally and socially. Unfortunately, the fear of falling causes older adults to avoid leaving the house, decline social invitations, and miss important family functions. This behavior can lead to feelings of anxiety, loneliness, social isolation, sadness and depression.
Visiting Angels of Hoboken provides elder care assistance to seniors in Hoboken, NJ and other nearby cities. With these services, a caregiver can provide assistance to your loved one so that they feel safe navigating throughout their home, and you can rest assured that they are in caring hands.
Elder Care Assistance in Hoboken, Kearny, and Nearby Cities
Falls are usually caused by one or more risk factors. A risk factor is something that increases a person's chances of falling. Risk factors may be linked to a physical condition, a medical problem, or the home environment. Some risk factors for falls in seniors include:
Arthritis

Poor eyesight

Taking multiple medications

Dehydration

Lack of grab bars in the bathtub

Lack of non-slip mats in the bathtub and shower floors

Lack of handrails and lights on staircases
Elder care assistance from Visiting Angels of Hoboken can assist you with identifying and addressing risk factors promptly, so that falls can be prevented. In addition, Visiting Angels caregivers are committed to educating older adults, their families, caregivers, and service providers about ways to reduce falls.
If you believe your loved one could benefit from elder care assistance from Visiting Angels of Hoboken, call us today at 201-533-1415 to schedule a free consultation.
Download Your Free Safe & Steady Fall Prevention Resource Guide today.
Serving Hoboken, Secaucus, Kearny, North Arlington and Other Hudson County Communities
Visiting Angels
HOBOKEN, NJ
50 Harrison St #211A
Hoboken, NJ 07030
Phone: 201-533-1415
201-222-1986
Fax: 201-222-1985