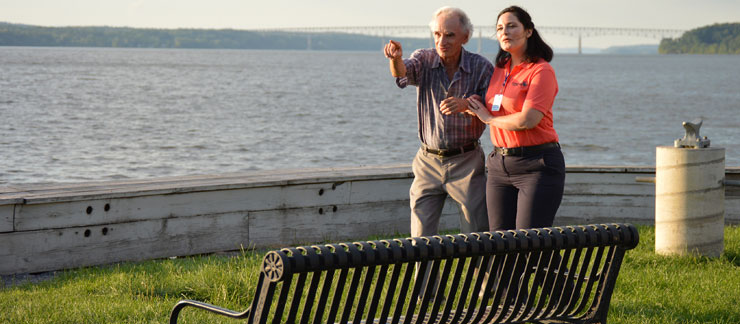 What You Should Do Now When Your Elderly Parent Starts Getting Lost
In the early stages of dementia or cognitive impairment, memory loss can obstruct familiar daily activities for seniors. But when severe mental lapses cause them to get lost while taking a walk or driving a car, a simple outing can quickly become an upsetting and potentially dangerous situation.
If your loved one struggles while navigating their surroundings, you will need to talk to a medical professional. A doctor will perform tests and assessments to determine the cause of the memory issue.
What Can You Do to Help a Loved One Who is Getting Lost?
In addition to a doctor's prescribed recommendations, here are several ways you can help a senior who is getting lost:
Create routines
Older adults with cognitive decline thrive on routines and familiar places. Establishing a daily routine can help them remember how to get from place to place. Knowing where they go on a routine basis can give you and local authorities an idea of where to start looking if they become lost.


Be aware of triggers
Your loved one may be more prone to getting lost during certain times of day or when visiting an unfamiliar or confusing place, such as a busy mall or grocery store. Being mindful of triggers can help you plan for their safety.


Use a GPS
If your senior is still driving, installing a GPS in their car can be helpful when navigating around town. Consider activating a GPS on a mobile device, also.


Get an ID tag
Have your loved one wear a medical ID bracelet or tag 24/7. The bracelet or tag should include their name, diagnosis, emergency phone numbers, and address. Attach identification labels inside clothing to help if they resist or forget to put on an ID bracelet or tag.


Keep current photos and videos
Having current photos and videos handy can assist police and others in finding your loved one.


Take advantage of local law enforcement registries
Many local police departments have registries for residents who are prone to getting lost due to a medical condition. You can include your emergency contact information and your loved one's photos and home address. Enroll your mom or dad in the MedicAlert® + Alzheimer's Association Safe Return® Program (call 1-888-572-8566 to find the program in your area).
How Can In-Home Caregivers Prevent a Senior From Getting Lost?
An in-home personal care worker can provide numerous benefits for a loved one who is getting lost, including:
Providing supervision
Whether your loved one is walking around the neighborhood, visiting the doctor's office, or going to the grocery store, a Visiting Angels' caregiver can be by their side to keep them safe and secure.


Helping to cope
A Visiting Angels' caregiver can ensure your loved one follows safety recommendations, such as wearing an ID bracelet, using GPS, and managing triggers. If they become disoriented or confused, their caregiver can redirect them or provide compassionate assistance.


Being your "eyes and ears"
A Visiting Angels' caregiver will alert you of any changes in your loved one's condition, such as worsening disorientation or confusion, so you can take appropriate steps to ensure their safety or seek care from a medical provider.
If your loved one is getting lost, hiring a Visiting Angels caregiver can keep them safe while providing you with the peace of mind you need — even when you can't be by your senior's side.