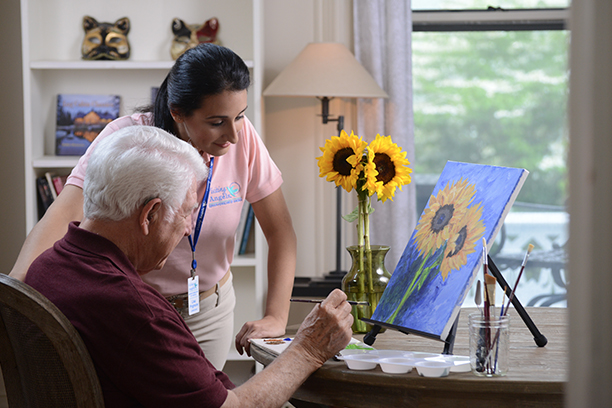 Elderly Companion Care in Little Canada, MN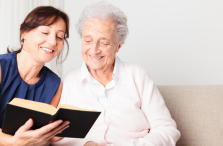 When you decide to look for professional care for yourself or a family member, you want someone who will treat you with respect. At Visiting Angels Little Canada, it's our agency's mission, and that of our caregivers, to treat each client with dignity and respect at all times. We are aware that some of the services we provide are personal in nature. It's important to us that our caregivers can put you at ease. At Visiting Angels Little Canada, we believe in treating our in home care clients with the same respect we would show our own family members. We are dedicated to helping seniors live the best life possible in the comforting surroundings of home.
Customized Elderly Care Services
Visiting Angels Little Canada is happy to offer customized personal or companion care to our clients. The needs of the senior and disabled populations can vary greatly so receiving assistance which is tailored to your needs is important. Our agency is able to provide aid with a wide array of non-medical and medical, such as daily tasks housekeeping, planning and preparing meals which follow a physician prescribed plan, respite care, personal care, dressing, bathing, personal hygiene, incontinent, etc.. We offer Medication Management, which includes obtaining Physician orders, Medication Management/Assessment, set up, and administration, as well as delegated task that include but not limited to application of dry dressing, application of topical creams, application of stockings (TED) Blood Glucose monitoring, feeding assistance, as well as other delegated tasks. We can also assist with transportation and various other task tailored to your needs.
At Visiting Angles of Little Canda we pride ourselves on building relationships, you will always know your caregiver(s). We build care teams so you will know your caregivers. (If emergency call off, we will not send another caregiver without your approval)
Flexible Schedules from Visiting Angels Little Canada
When it is time to set up care, Visiting Angels of Little Canada gives you options, so you don't have to worry about availability. We happily offer assistance at any time, day or night, so you can retain your current routines. From aid during the day while your loved ones work, to assistance overnight to keep you safe, the elderly care professionals from Visiting Angels Little Canada will lend a hand on your schedule.
Visiting Angels Little Canada Helps with Fall Prevention
When it comes to the safety of our clients, Visiting Angels Little Canada takes our job seriously. Elderly care services from our agency help seniors with safety concerns such as fall prevention. Our complimentary safety assessment looks for fall risks and other threats to your well-being and offers suggestions for staying safe. Our agency is dedicated to the health and happiness of our clients.
To learn more about the unique Senior care services from Visiting Angels Little Canada, call our agency today.
Serving the Twin Cities Metro Area and Surrounding Communities
Visiting Angels
LITTLE CANADA, MN
70 County Rd C West #706
Little Canada, MN 55117
Phone: 651-633-4487
Fax: 651-633-6225
Services
Client Assessment free of charge
RN Evaluation
Companion Care
Personal Care
Memory Care
One on one care
Housekeeping
Running Errands
Angel Visits
Respite Care
Medication Management - Setup - Administration - Reminders
Consistent Caregivers
Available 24/7
"We Build Relationships"