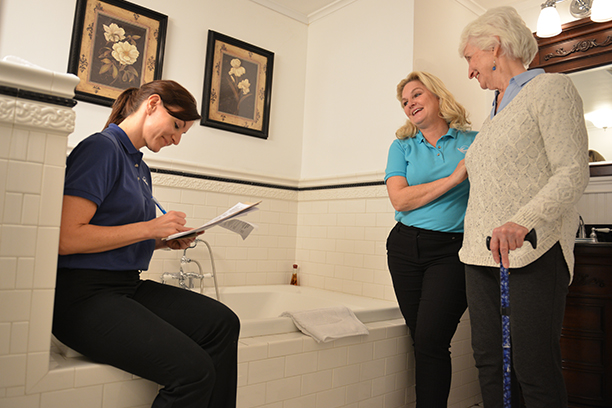 Frequently Asked Questions About Alzheimer's Disease and Alzheimer's Care Options Available in Littleton, CO and Surrounding Areas
What is Alzheimer's?
Alzheimer's disease is the most common form of dementia. It is a degenerative disorder of the brain that gets worse over time and is characterized by symptoms such as memory loss, cognitive decline, and changes in behavior.
Seniors with Alzheimer's require extensive support in the mid and later stages of the condition, either from family members or professional Alzheimer's caregivers.
Alzheimer's disease is unfortunately a terminal illness and older adults diagnosed with the condition have an average life expectancy of 4 to 8 years. Over 5.5 million Americans, most of which are adults over the age of 65, have Alzheimer's disease, which is the sixth main cause of death in the country.
What is the difference between dementia and Alzheimer's?
Dementia is a term used for a wide variety of brain disorders that all have one symptom in common – memory loss. Alzheimer's disease, on the other hand, is the most common type of dementia, accounting for up to 80 percent of all cases of dementia.
What are the risk factors for Alzheimer's?
While no one knows what causes Alzheimer's disease, there are some risk factors that increase a person's chances of developing it.
The most common ones are:
Advanced age (over 65)
Genetics (family history of Alzheimer's)
Cardiovascular conditions (hypertension, high cholesterol, diabetes, stroke, cardiac arrest)
Other risk factors are:
Sleeping problems
High stress levels
Heavy smoking and/or drinking
Head trauma
Exposure to air pollution
What are the symptoms of Alzheimer's?
The most common signs of Alzheimer's disease include:
Memory loss, both short-term and long-term
Difficulties solving problems
Struggles with performing daily tasks
Trouble with remembering and using words
Losing items more frequently
Confusion about time and/or place
Confusion about names and people
Irritability
Depression
If your loved one shows one or more of these symptoms, it is imperative that you talk with their medical team. If they are diagnosed with Alzheimer's disease, finding the right Alzheimer's care options can help them age at home safely while receiving the care they need.
How does Alzheimer's disease progress?
Researchers believe that Alzheimer's actually begins years before the symptoms start to appear. Once they appear, they are mild and do not typically affect a person's ability to take care of themselves or perform daily activities. Over time, however, the symptoms progress and become moderate and then severe. In the final stages of Alzheimer's, people lose memory, cannot speak or understand others, and are unable to perform even the simplest, most basic daily tasks.
Does Alzheimer's disease have a cure?
Unfortunately, there is currently no known cure for Alzheimer's disease. It is believed that the illness is irreversible. With treatments, clinical trials, and healthy lifestyle habits, it is possible to slow the onset of the condition and reduce its symptoms.
What are my loved one's options for Alzheimer's care in Littleton and surrounding communities?
In the early stages, individuals with Alzheimer's can get the help they need from family and friends. When Alzheimer's reaches mid and advanced stages, people with the condition need a lot of care and support, in most cases from trained professionals. Care options available in Littleton, Englewood, Parker, Centennial, Castle Rock and surrounding areas in Colorado include Alzheimer's care services provided at home and nursing homes and memory care facilities.
At Visiting Angels Littleton, we provide specialized Alzheimer's home care services for seniors in the South and West Metro Denver area. Our care plans are personalized and flexible so your loved one can get the help they need whenever they need it.
Give our Littleton, CO office a call today at 720-981-0804 to learn more about our Alzheimer's care services, find out how we can help your parent and schedule your free consultation.
Serving Littleton, Highlands Ranch, Centennial, Castle Rock, Parker, Greenwood Village, Evergreen, and Throughout the South Denver Metro Area
Visiting Angels
LITTLETON, CO
26 W Dry Creek Cir #820
Littleton, CO 80120
Phone: 720-981-0804
Fax: 720-891-8443