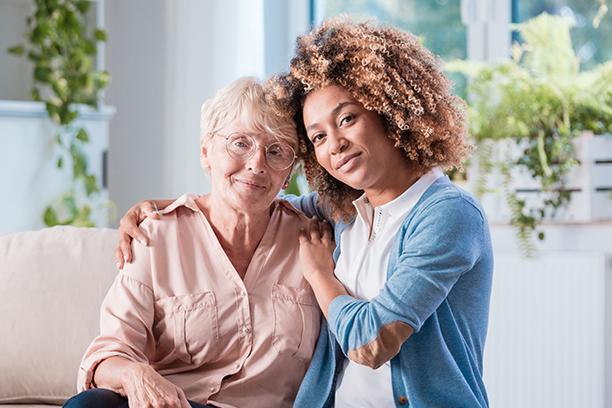 Caring for Seniors with Alzheimer's in Littleton, CO and Surrounding Areas
More than 5 million Americans have Alzheimer's disease, a condition that causes slow cognitive decline and reduces one's quality of life. Finding out that your loved one has been diagnosed with this disease is overwhelming, but there are some steps that can help when caring for seniors with Alzheimer's.
Although the cure for Alzheimer's still hasn't been found, some treatments and therapies can slow the worsening of symptoms. In addition, with professional Alzheimer's care from Visiting Angels Littleton, seniors in Littleton, Centennial, Englewood, Parker, Castle Rock and throughout the South Metro Denver area can age comfortably at home where they will receive all the assistance and support they need.
Warning Signs of Alzheimer's
If you are worried that your loved one might have Alzheimer's, there are some signs you should pay attention to:
Does your parent often forget recent events or other new information?
Do they find planning and solving problems difficult?
Are they often confused about time and place?
If you answered "yes" to one or more of these questions, taking your loved one to see a doctor as soon as possible is a wise decision.
Seniors with Alzheimer's also have trouble finding the appropriate words and completing sentences and start to withdraw themselves from work or social activities. Increased depression, fearfulness, anxiety or suspicion also can be signs of Alzheimer's.
If you notice any of these signs, your loved one should get evaluated by a physician and tested for Alzheimer's. Although these signs can be subtle at first, in time they will gradually increase and become more persistent.
What to Know About Caring for Seniors with Alzheimer's in Littleton and Surrounding Communities
When caring for seniors with Alzheimer's, here are some steps you should take to manage the disease and make both of your lives easier.
Educate yourself – When it comes to Alzheimer's it is important not to be caught off guard. Therefore, find out everything you can about the disease, your care options and be prepared for everything that's coming your way.
Employ cognitive stimulation – Simple activities such as listening to music, solving word puzzles and playing memory games can slow down cognitive decline.
Arrange respite and/or regular senior care – With professional in-home Alzheimer's care, your loved one can receive the level of care they need right at home. At Visiting Angels Littleton, our caregivers are trained to deliver personalized Alzheimer's home care services.
Build a support system – Looking after a loved one with this disease can be stressful, overwhelming and exhausting. Therefore, find people or support groups who will help you maintain your mental and physical health.
If you wish to learn more about caring for seniors with Alzheimer's disease and how Visiting Angels can help, call our Littleton, CO office at 720-981-0804 and our staff members will answer your questions.
Serving Serving Littleton, Englewood, Centennial, Parker, and Throughout the South Metro Denver Area
Visiting Angels
LITTLETON, CO
26 W Dry Creek Cir #820
Littleton, CO 80120
Phone: 720-981-0804
Fax: 720-891-8443