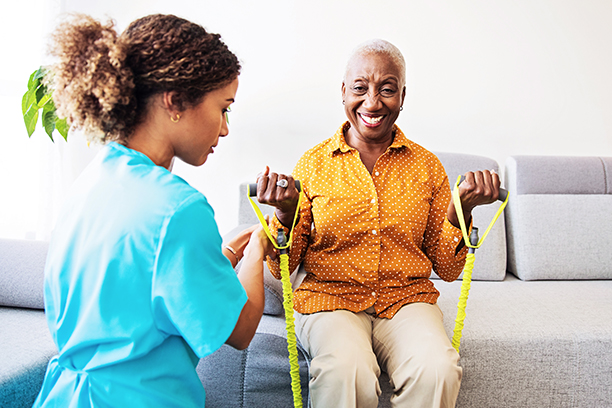 How Families in Longmont, CO and Surrounding Areas Can Identify Stroke Symptoms
Identifying the signs of a stroke is essential in making sure seniors in Longmont, Boulder, Louisville and surrounding areas in Boulder County, CO receive the assistance they need. Essential home health care providers from Visiting Angels of Boulder County can help.
Strokes are a major health risk for older adults and one of the leading causes of death in the United States. When a stroke occurs, every second counts. If you are providing care for your loved one, knowing how to identify the signs of a stroke can help you find the care and support you loved one needs to recover and literally save their life.
React FAST
As a home care agency that has provided quality in-home care for seniors who have suffered a stroke, Visiting Angels of Boulder County recommends using the FAST technique to quickly assess whether a person is having a stroke. This technique allows you to act quickly so your loved one can get home health care services to help them recover.
FAST stands for:
F – Face: Try to notice whether one side of your loved one's face appear numb or looks like its drooping. Ask Mom or Dad to smile for you and if their smile is uneven, seek medical attention quickly.
A – Arms: One of the most prominent signs of a stroke is arm weakness. Ask your loved one to raise their arms and if they're not able to raise them all the way or one seems to be drifting downwards, then there's a good chance Mom or Dad is suffering a stroke.
S – Speech: Impaired speech such as slow or indistinctive speech is one of the most common signs of an impending stroke. If you happen to notice your loved one is pronouncing words inaccurately or they have difficulties finishing a simple sentence, you have a clear sign of a stroke on your hands.
T – Time: Time is of the essence in situations such as these. If you recognized one or more of the above mentioned signs, call 911 immediately.
The good news is that up to 80 percent of strokes are preventable. For this reason, encourage your loved one to regularly check their blood pressure and to adhere to a healthy diet and lifestyle choices.
How Home Health Care from Visiting Angels of Boulder County Helps Seniors in Longmont and Surrounding Areas with the Recovery Process
You should consider hiring post-stroke recovery care from Visiting Angels of Boulder County to help your loved one recover. Our services can significantly raise the bar on your loved one's quality of life. One of our professional caregivers can assist with:
Transferring and positioning

And more
Call our Longmont, CO office at 303-828-2664 to learn more about our special brand of home health care services for seniors who have survived a stroke. We also offer free in-home consultations to determine what type of care is best suited for your loved one. We're looking forward to working with you!
Serving Boulder County, including Longmont, Boulder, Louisville, Erie, Lafayette and Surrounding Areas
Visiting Angels
LONGMONT, CO
2040 Terry St #106
Longmont, CO 80501
Phone: 303-828-2664