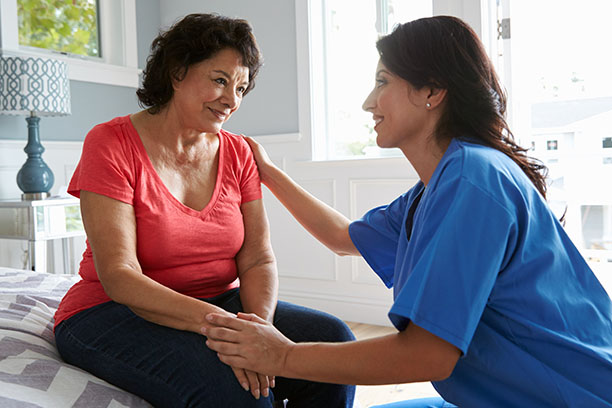 Reliable In-Home Dementia Care for Seniors in Longmont, CO and Surrounding Areas
In-home dementia care from Visiting Angels of Boulder County allows seniors with dementia in Longmont, Boulder, Lousville and surrounding areas in Boulder County, CO safely age in place while getting the care they need
When a loved one with dementia relies on you for care, it can be a big responsibility. If you're finding yourself overwhelmed with the task, let Visiting Angels of Boulder County help. We can provide in-home care for your loved one with specialized essential personal care services created exclusively for those struggling with the illness. They can receive support to better cope with dementia, as well as practical help with personal needs and around the home.
How Visiting Angels of Boulder County Can Help Your Loved One Manage Dementia Symptoms
"I am in the service business to help make lives better for families of varying needs. It is through my work, that I have had the tremendous good fortune of working with Visiting Angels. They are providing excellent care for my father-in-law who is living with severe dementia, so that he may remain at home as long as possible. Providing care has not been the only gift we have received. Visiting Angels have been true partners in assisting with putting a care plan in place, providing daily notes, and working with us and a long-term insurance company to obtain reimbursements for services rendered. There are simply not enough words to thank them for all they have done for my family and other clients in the past! Tawnya Gorse has been the one leading the charge and I would follow her into any battle where a loved one needs someone to fight for their dignity and care. Visiting Angels, and Tawnya, Thank you!"
- Laura M.
Your loved one is most comfortable at home. But the realities of dementia – whether the disease is in the early stages or more advanced – can make remaining there difficult. There are many symptoms, from confusion to memory loss, that gets in the way of healthy living. On top of that, your loved one may be struggling each day due to an overall physical decline.
With in-home dementia care from Visiting Angels of Boulder County, we can help your loved one, regardless of the stage of the disease. Even if they simply need a helping hand around the house in areas like cooking and cleaning, our personal care assistants can be there with the right level of support. If, however, more in-depth or 24-hour home care is required, we have the capabilities to meet those needs, as well.
For the past 15 years, Visiting Angels of Boulder County has been helping seniors with dementia care services that include:
With memory care services from Visiting Angels of Boulder County, your loved one can avoid or delay the need for relocating to a nursing home or memory care center. At the same time, they'll get a caregiver who is knowledgeable, compassionate and dedicated to helping them. Our caregivers are offered basic and advanced training through dementia care programs created in collaboration with top specialists in the field.
Get Started with In-Home Care from Visiting Angels of Boulder County
Don't struggle alone; we have the care and support services available to meet a wide range of needs. In fact, in addition to dementia-specific care, Visiting Angels of Boulder County offers many other services through our Life Care Navigation™ program. It's designed to provide the right care and support – physical, emotional, social and spiritual – to the elderly in many different stages of aging.
Call Visiting Angels of Boulder County at 303-828-2664 to book your free in-home consultation. Whether your loved one lives in Boulder, Louisville, Niwot, Firestone, Superior, Erie, Lafayette, Frederick, Longmont or another nearby community, our dementia care at home can provide the helping hand they need.
Serving Boulder County, including Longmont, Boulder, Louisville, Erie, Lafayette and Surrounding Areas
Visiting Angels
LONGMONT, CO
2040 Terry St #106
Longmont, CO 80501
Phone: 303-828-2664