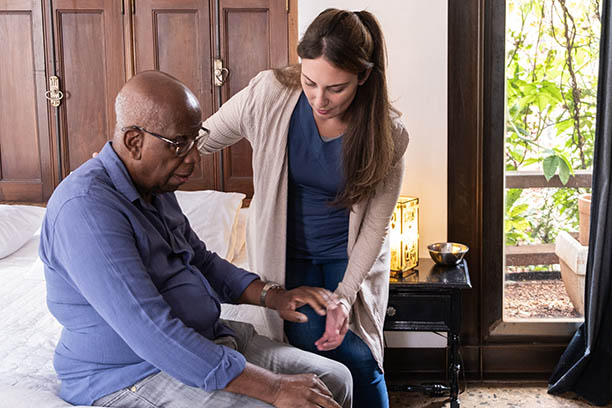 Comprehensive and Comforting Palliative Care for Seniors in Longmont, CO and Surrounding Areas
Palliative care from Visiting Angels provides comprehensive senior care in Longmont, Louisville, Boulder and surrounding areas in Boulder County, CO to improve your loved one's quality of life by caring for their physical, emotional, social and spiritual needs
At Visiting Angels of Boulder County, we focus on elevating life quality in seniors by striving to meet your loved one's every physical, emotional, social and spiritual need through our Certified Palliative Care Program. While many people think that this is the same as hospice care, these terms denote different types of care. Our caregivers treat it as comfort care, as its goal is to provide support and comfort to seniors throughout Longmont, Boulder, Louisville and surrounding communities in Colorado, regardless of their life expectancy.
It is important to note that palliative and hospice care do have some similarities. They both aim to minimize pain and discomfort and allow seniors to improve their quality of life. However, hospice care is used by seniors nearing the end of their lives whereas palliative care is the right solution for older adults who require companion home care services that can boost their comfort and overall well-being, no matter how long they are expected to live.
The Certified Palliative Care Program: A Comprehensive and Holistic Approach to Senior Care for Older Adults in Longmont and Surrounding Areas
At Visiting Angels of Boulder County, we offer a wide range of home care services through our Life Care Navigation program tailored to meet the needs of seniors, which also includes end of life care for older adults in need of comfort care as they near the end of their lives.
In order to be able to provide care of the highest quality, we follow a certain care philosophy focusing on all aspects of a person's life. Our care can have a healing, therapeutic effect on seniors and help them restore hope and joyfulness.
This can only be achieved through an approach that caters to every single need of those we care for, including:
Physical needs - Our comfort care services address the physical needs of our clients by paying special attention to any health issues commonly found in seniors and providing essential care and assistance that can help them overcome these age-related challenges.
Emotional needs - Our Certified Palliative Care Program addresses the emotional needs of our clients by recognizing the signs of depression, loneliness, stress, and anxiety - and approaching these issues with compassion. Through our services, we are able to reduce emotional problems and allow seniors to live their best life as they age.
Social needs - We further make sure to address our clients' social needs by forming strong relationships with them and their families. This is done through meaningful conversation and interaction.
Spiritual needs - Finally, we also address the spiritual needs of our clients by supporting them as they deal with the difficulties that come with age and treating them with the dignity and respect they deserve.
Getting Started with In-Home Comfort Care from Visiting Angels of Boulder County
If you have any questions about our Certified Palliative Care Program and other home care solutions, please contact our office in Longmont, CO today at 303-828-2664. We are happy to provide you with clear answers and honest advice and schedule a meeting with our care coordinators in your loved one's home to assess their needs and start working on a customized plan to provide the comfort care your loved one needs.
Serving Boulder County, including Longmont, Boulder, Louisville, Erie, Lafayette and Surrounding Areas
Visiting Angels
LONGMONT, CO
2040 Terry St #106
Longmont, CO 80501
Phone: 303-828-2664