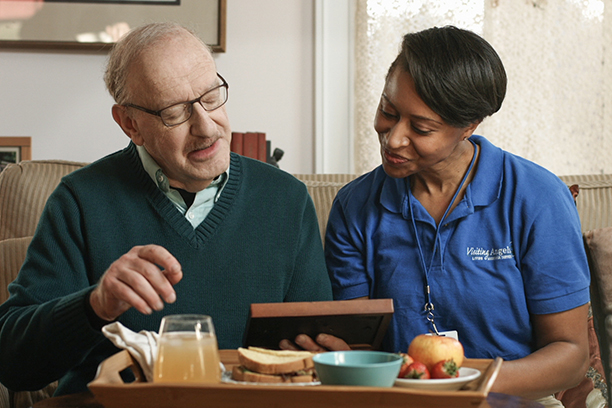 Parkinson's Care at Home for Seniors in Longmont, CO and Surrounding Communities
With Parkinson's care at home from Visiting Angels, seniors in Longmont, Boulder, Louisville and surrounding areas in Boulder County can get the support they need to continue living at home while managing symptoms of Parkinson's disease
Many seniors who have been diagnosed with Parkinson's will not see any immediate symptoms or changes to their behavior during the early stages of the illness. However, as the condition develops, it strongly affects movement and older adults find it difficult to perform even daily, simple tasks once the symptoms grow stronger. This is why your senior loved one would need professional Parkinson's care services from an agency like Visiting Angels of Boulder County that can provide high-quality in-home care to those seniors living in the Longmont area and surrounding communities in Boulder County, CO.
With Parkinson's care from Visiting Angels of Boulder County, your senior loved one can lead a joyful and meaningfully active life by receiving high-quality care at home. We ensure that all of your senior loved one's needs are met by creating a personalized care plan that takes into account their condition, personality, daily activities, and even desires. Also, we provide your senior loved one with a highly skilled caregiver who can cater to any changing needs that they may have in order to continue living independently in their own homes.
Parkinson's Symptoms
Although the symptoms with Parkinson's don't initially manifest themselves very visibly, as the illness progresses your loved one's mobility will be jeopardized. Some of the most common symptoms of people living with Parkinson's are:
Frequently recurring tremors and shakes
Decline in movement and mobility
Balancing issues
Depression and trouble sleeping
Delusions
And seniors in advanced stages of the disease can even develop dementia.
How Parkinson's Care at Home Helps Seniors in Boulder County
Parkinson's affects movement and balance, so your senior loved one will be at high risk of injuring themselves without the proper in-home care and support. Also, their daily activities become harder to perform which is why they will need a caregiver to help them remain independent at home.
Our trained professional caregivers are highly skilled in Parkinson's, Alzheimer's, dementia and other cognitive-related illnesses so you can be assured that your senior loved one will be receiving the proper care at home.
Whether your parent needs help with mobility, personal care needs like bathing, meal preparation, light housekeeping, or transferring, you can rest assured that they will be in capable hands.
Serving Boulder County, including Longmont, Boulder, Louisville, Erie, Lafayette and Surrounding Areas
Visiting Angels
LONGMONT, CO
2040 Terry St #106
Longmont, CO 80501
Phone: 303-828-2664