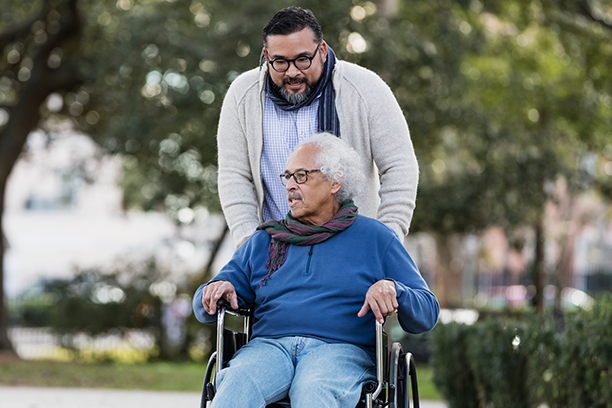 Visiting Angels: The Leader in Elder Care Services
Since 1998, Visiting Angels has been providing compassionate elder care services to families across the United States. Our network of elder care franchised agencies is committed to providing families with the best possible in-home senior care services. Our commitment to you is simple: We'll help your loved one continue to live at home, and we'll help you find peace of mind.
Our Story
Visiting Angels was created in 1998 when Jeffrey Johnson, Director of Social Work at a Baltimore nursing home, became concerned with the lack of resources available to the home's elderly residents and the indifferent attitude that some caregivers and others had for them. Jeffrey was dissatisfied with the options available for seniors and realized that for many elderly, the best setting was not a nursing home or other facility, but their own homes. He made creating an option for people to age at home his mission, and Visiting Angels was born.
Today there are over 600 Visiting Angel agencies across the country. And, while our in-home care business began with Jeffrey's mission to help the elderly, Visiting Angels has extended our care to include any adult 18 and older with home care needs. As we've grown, we haven't forgotten Jeffrey's original vision and in 2019, for the 5th year in a row, Franchise Business Review Ranked Visiting Angels the No. 1 of All Senior Care Franchises in the Industry!
Visiting Angels Madison
Visiting Angels Madison provides in-home elder care in most of Dane County including Madison, Middleton, Oregon, Deerfield, Sun Prairie, Verona, Fitchburg, and Waunakee. Visiting Angels Madison is owned and operated by Tracy Teske.
Tracy was drawn to in-home care for seniors and those with disabilities after seeing how much her own family appreciated the help of home health aides during her father's battle with cancer.
Prior to opening Visiting Angels Madison, Tracy worked for over 35 years in the hospitality industry. This experience gave her a passion for providing the best customer service possible, the top goal of Visiting Angels Madison.
Tracy's partner, Robert Shallenberg has been overseeing the needs of his now 96-year-old mother since his father passed away in 2002. Robert brings this first-hand caregiving experience to the mission and core values of Visiting Angels. With both a heart for aging parents and his experience in owning and administrating other business enterprises for the past 35 plus years; Robert's leadership and integrity add tremendous strength to the organization.
Working to fill the needs of our senior clients from our office are Lori Devoti (Culture and Community Relations Manager), and Janice Selfridge (Business Coordinator).
Everyone at Visiting Angels Madison is in the in-home senior care business with the goal of providing the best care possible for our clients. No matter where you are located in Dane County, Wisconsin, we want our seniors and clients with disabilities to have the same excellent care and service that we would want for our own loved ones. In fact, Tracy's mother is a client!
Our Caregiver Angels
At Visiting Angels Madison, we provide a "team of angels" to assist those who want to keep their elderly loved ones safe, secure, and cared for in their own home environment where they are most comfortable.
Our caregiver angels are carefully chosen to reflect the values we carry as an organization. We look for caring, reliable, and honest caregivers that we would send into our own homes, to care for our own senior loved ones. Visiting Angels Madison is bonded, and our caregivers are carefully interviewed and go through background checks. We also provide ongoing training on a variety of caregiving topics.
Our goal is to deliver the best quality in-home senior care wherever the need exists throughout Dane County and for our Visiting Angel caregivers to have the very best in training and support.
On-Call Manager
One piece of our caregiver and client support is our on-call manager. Twenty-four hours a day, seven days a week we are here to find coverage and keep clients informed when a caregiver calls in sick or is delayed.
All of this is why Visiting Angels is
"America's Choice in Homecare"
Serving Madison, Middleton, Deerfield, Oregon, Sun Prairie and Surrounding Areas
Visiting Angels
MADISON, WI
2001 W Beltline Hwy #103
Madison, WI 53713
Phone: 608-819-0665