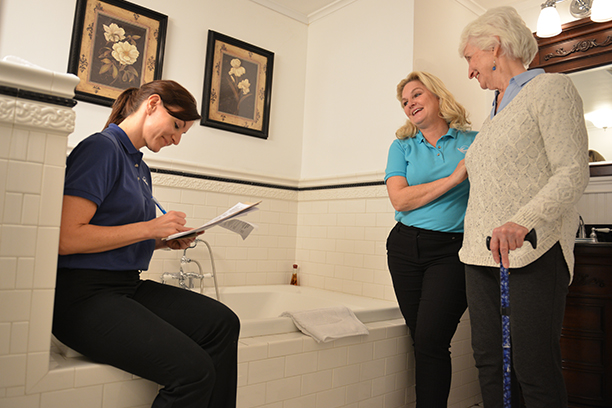 How We Assist With Aging in Place in Poway 
Are you aware that aging in place is a possibility for your loved one, even if they are dealing with a challenging age-related condition or struggling with basic activities? At Visiting Angels® Poway, we understand why seniors want to age in place as well as how to help them do so safely and comfortably. Through our wide range of personalized services and in-home care programs, we offer elderly adults the helping hand they require to remain in their familiar home environment.
The Importance of Aging in Place
It certainly shouldn't come as a surprise to hear that the vast majority of adults over the age of 60 would rather stay at home than move to a senior care facility or assisted living center. Individuals in this age group often depend on familiar surroundings and take joy in their daily rituals in Poway. Aging in place makes it possible for them to feel they are maintaining their independence even as their ability to perform basic tasks declines.
In-Home Care vs. Assisted Living
While assisted living at a senior care facility can certainly be beneficial for some seniors, many find the move away from their own home to be particularly traumatic. Living in a facility typically requires them to eat, sleep, and bathe according to a certain schedule and can hinder the social life they've developed over many years. Since contagious illnesses can spread like wildfire in shared living facilities, this situation also isn't always the best for protecting seniors' physical health.
How We Help Families in Poway
Rather than asking your loved one to move away from home to receive care, you can arrange for them to receive professional support in the comfort of their home. Our caregiving team can provide your loved one with the services they require to go about their day-to-day life while enjoying assistance tailored to their needs, lifestyle, and personal preferences. For example, our caregivers often support seniors with light housekeeping, cooking meals, running errands, remembering medication schedules, and attending appointments. In addition, our caregivers act as patient companions to help prevent senior isolation.
Get started with a free care consultation today to learn more about how our caregivers can help your loved one with aging in place! Just give Visiting Angels Poway a call to set up an initial meeting with your loved one in Poway, San Diego, or a community in the surrounding areas.
Serving Poway, Mira Mesa, Scripps Ranch and Rancho Penasquitos
Visiting Angels
NORTH SAN DIEGO, CA
7960 Silverton Ave #204
San Diego, CA 92126
Phone: 855-86-ANGEL
858-566-9020
374700317