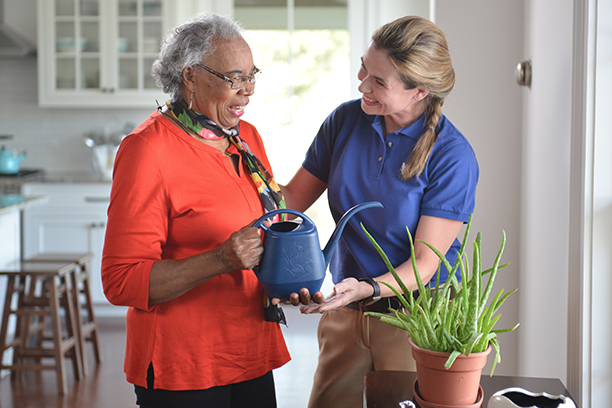 How Transitional Care in Poway Reduces Hospital Readmissions
Ready-Set-Go Home with Transitional Care
With the Ready-Set-Go Home program delivered by our local care agency, seniors can benefit from personalized transitional care services in Poway. At Visiting Angels® Poway, we work to provide elderly adults with the high-quality non-medical care they require to minimize their risk of returning to the hospital and promote their safety and comfort as they age in place.
When you hear that nearly 1 in 5 older individuals on Medicare return to the hospital within a month of their discharge, you may be incredibly worried about your loved one in Poway. Getting them started with transitional care can give you peace of mind that they have access to tailored support from a compassionate caregiver who is dedicated to meeting their needs and helping facilitate their recovery.
What Causes Hospital Readmissions?
A significant portion of rehospitalizations among elderly adults are considered preventable. In many instances, they stem from seniors feeling weak or lacking the energy required to take care of themselves. When older adults feel exhausted following a hospital stay, they may fail to properly follow their doctors' instructions, including taking medications as prescribed, drinking fluids regularly, and keeping up with their personal care. As a result, their physical and mental condition can decline, resulting in complications and a swift return to the hospital.
How Transitional Care from Visiting Angels Poway Helps
Our Ready-Set-Go Home program offers a number of key benefits for seniors who are expected to be discharged from the hospital. We begin with in-hospital care visits that help families get ready for the discharge, coordinate a workable care schedule, and lay out expectations for the transition and recovery process. We help ensure families have support to communicate effectively with their loved one's physicians and ask questions that will provide them with crucial insights.
The next phase of our transitional care program revolves around care visits to the senior's home in Poway. These visits are based on a personalized plan of services tailored to the senior's needs and preferences. For example, our personalized programs can include help with bathing and grooming, cooking nutritious meals, keeping track of medication schedules, and transportation to follow-up appointments.
Learn more about the difference transitional care can make during your loved one's hospital discharge and recovery. Contact Visiting Angels Poway today to book a free consultation in Poway, San Diego, or another community in the surrounding area.
Serving Poway, Mira Mesa, Scripps Ranch, Rancho Penasquitos, Miramar Ranch, and Surrounding Communities
Visiting Angels
NORTH SAN DIEGO, CA
9939 Hibert Street #Suite 107
San Diego, CA 92131
Phone: 855-86-ANGEL
858-566-9020
374700317