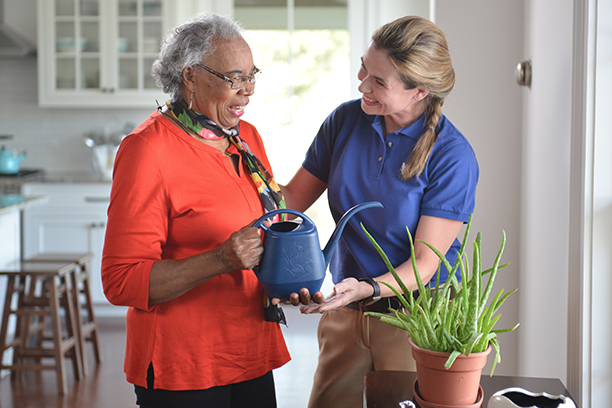 Why Visiting Angels
The Proven Choice among Home Care Agencies in the San Diego Area
Families throughout the San Diego area turn to Visiting Angels for all their at home care needs. Visiting Angels San Diego is one of the leading home care agencies serving families in Rancho Penasquitos, Scripps Ranch, Poway, and Mira Mesa. Our compassionate, professional caregivers can help your loved one live safely at home.
It's Your Schedule, Keep It
Some home care agencies put their clients on a schedule. Wake at this time; eat at that time. At Visiting Angels San Diego, this isn't the way we care for our clients. Our caregivers understand that your schedule brings you comfort and security. We won't change your schedule. We don't make arbitrary decisions. Our job is to help you keep your schedule so you can live comfortably at home.
We Put Safety First
When interviewing home care agencies in the San Diego area, it's important to ask about safety. Choose home care agencies that are bonded, licensed and insured. Home care agencies with this type of commitment to safety are the ones committed to quality care. Visiting Angels San Diego is bonded, licensed and insured for the safety of your loved one and for your peace of mind.
Monitoring and Follow Up
At Visiting Angels San Diego, we want our clients and their families to have peace of mind. All our clients enjoy regular follow up checks from our service coordinators. Our team will call and personally visit your loved one to ensure they are receiving the best possible care.
Unique Care for Unique Needs
Not all home care agencies provide custom care plans. Visiting Angels San Diego does. Our custom care plans are designed to provide our clients with the individualized care they need to thrive. Your loved one will receive a care plan that addresses each of their health and wellness needs.
Find out why families choose Visiting Angels from among the home care agencies in the San Diego area. Call our office today to learn more about our commitment to quality at home care.
Serving Poway, Mira Mesa, Scripps Ranch and Rancho Penasquitos
Visiting Angels
NORTH SAN DIEGO, CA
7960 Silverton Ave #204
San Diego, CA 92126
Phone: 855-86-ANGEL
858-566-9020
374700317