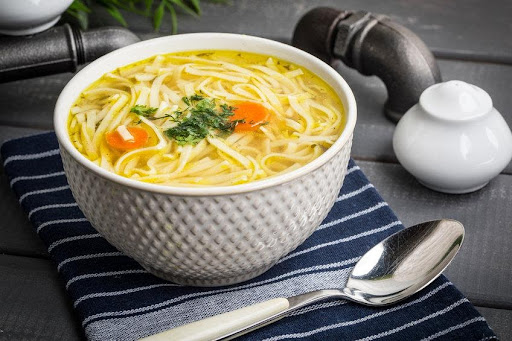 National Soup Month: The healing properties of chicken soup
January is National Soup Month, a time to celebrate the savory broths that keep us warm throughout the winter. Several soups are healthy options with unique benefits of their own, but one sticks out among the rest as the champion of cold and flu season. It's not just a myth either—there is a science to prove that a bowl of chicken noodle soup could boost your health this winter.
The science
There are many recipes for chicken soup, but most traditional types contain certain essential ingredients such as onions and carrots that create an impactful combination. According to researchers at the University of Nebraska Medical Center. Chicken soup acts as an anti-inflammatory agent for your nasal cells, giving your nose relief in cold, dry weather or through seasonal illness. Onions, in particular, contain protein, calcium, and sulfur, which decrease swelling and aids in reducing nasal congestion. We know carrots are big proponents of healthy vision. Still, carrots also enable our bodies to produce vitamin A, strengthening our white blood cells and allowing us to better fight off infection.
The main ingredient, chicken, is essential to the make-up of this soup's healing powers. When chicken cooks in soup, an amino acid called cysteine is released. Cysteine thins mucus in the lungs, aiding in chest decongestion and faster healing. Chicken also provides a great source of protein that is particularly helpful to muscles when your body feels weakened and drained during illness.
On top of physical benefits, chicken soup may also benefit your mood. Chicken is high in tryptophan, another amino acid that helps the body produce serotonin and enhance your mood and aid in a good night's sleep.
These three may be the base for any robust chicken soup, but it doesn't stop there. According to research, the more ingredients in your soup, the better. Research found that chicken soup with various veggies can help ease the symptoms of upper respiratory tract infections, including congestion, stuffy nose, cough, and sore throat. Vegetables are nutrient-dense and often packed with antioxidants to remove toxins from your system. Combined with chicken soup, they make a bowl of immune-boosting magic.
Last but not least, adding some noodles will provide enough carbohydrates to make you feel full while still going easy on your stomach. An upset stomach often accompanies cold and flu symptoms, but light broth with nutrient-dense veggies will be gentle on your stomach while providing adequate nutrition to get you feeling better.
Order a bowl from your favorite local restaurant, or take a shot at cooking your own simple chicken noodle soup.
Most soups have their benefits
It's hard to go wrong! Hot soups, in general, help keep nasal passages moist, thin out mucus, prevent dehydration, and soothe a sore throat. Any kind of vegetable-dense soup is going to achieve similar effects to chicken soup, though you may miss some of its more unique qualities. Some other healing soups to try are:
Carrot ginger soup
White bean and kale soup
Tomato basil soup
Butternut squash soup
Minestrone, or other vegetable soups
Why it matters
A healthy body starts with a healthy diet, and it's important to consider what you're eating every day—even when you're not sick. Visiting Angels Toms River offers meal planning and preparation services to help you develop the right kind of diet for your body. Our caregivers consider all of your health concerns, including chronic diseases, when developing a food plan. Serving The Greater Toms River-Brick area and communities throughout Ocean County, our caregivers offer a variety of services beyond meal management. Reach out today to learn more about home care benefits and the options available to you at (732) 240-1050.