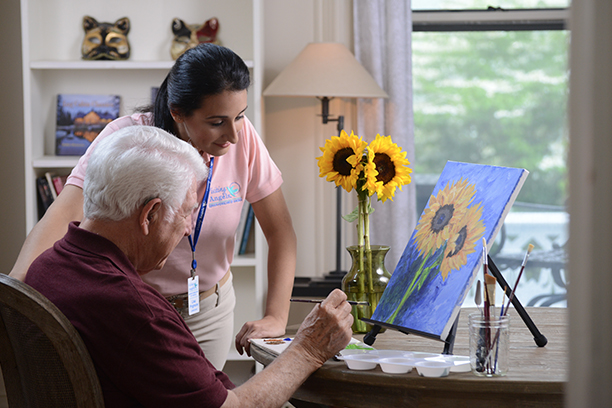 You're in Control
Senior Care Services that Put You in Control


Don't settle for less than the best senior care services when your loved one in the Pittsburgh area needs care. Finding the best senior care services means finding a caregiver who is experienced in the skills your loved one requires. It also means the senior care services provider you choose should be caring and compassionate. The senior care services agency you choose should also allow your loved one to maintain the schedule they enjoy.


All too often senior care services agencies come in and try to shake things up. They assign caregivers, change schedules and try to take control of their client's lives. This simply won't happen when Visiting Angels Pittsburgh is your senior care services agency. Your senior care services caregiver will never come in and change your schedule. At Visiting Angels Pittsburgh, we are dedicated to providing care that puts our clients in charge. We believe your schedule is part of what makes you comfortable and happy. So let us know about your routine and we'll help you keep it. We'll make sure you get to all of your appointments, help you run errands or just make sure you eat at the time that is best for you. It's your schedule and our job is to make sure you keep it the way you like!


Our client centered senior care services start with the choice of a caregiver. Unlike other agencies who assign caregivers to their clients, we allow our clients to choose their own caregiver. After learning about your needs, we will send several potential caregivers with the skills you require to your home. You will have the chance to meet with each one and choose the senior care services provider you are most comfortable with. Having a senior care services provider you like and enjoy spending time with ensures a higher level of care and comfort.


With Visiting Angels Pittsburgh as your senior care services agency, you can be confident you will always be in control of your care. From choosing your caregiver to creating a custom care plan, we always put our clients first. Find out more about senior care services by calling our Pittsburgh office today.
Serving Pittsburgh, Southern Allegheny County, Fayette and Greene Counties
Visiting Angels
PITTSBURGH, PA
4146 Library Rd Suite 6
Pittsburgh, PA 15234
Phone: 412-343-1515
Fax: 412-343-3998