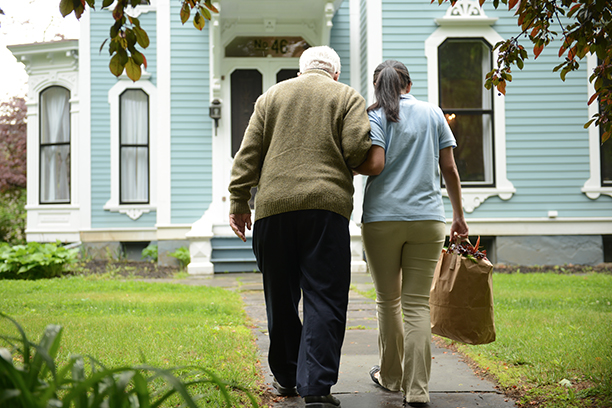 Outstanding Elder Care Services in Fleetwood, PA
Visiting Angels of Pottstown Offers Elder Care Services Designed to Help Seniors Continue Living Independently at Home in Fleetwood
Visiting Angels of Pottstown is one of the leading providers of elder care services in Fleetwood, PA, and surrounding areas. Our personalized senior care plans can be customized to meet each client's specific needs, ensuring they can continue aging in place and enjoying life in familiar surroundings.
We realize that Fleetwood, with its proximity to cities like Allentown and Reading, is a wonderful place to enjoy retirement. The community here has a lot to offer and there is nothing better than spending your golden years near family, in the place you spent most of your life. When your loved one wishes to continue living at home rather than moving into an assisted living facility, Visiting Angels of Pottstown's elder care services are here to help.
Elder Care Services for Seniors in Fleetwood
Our caregivers offer a range of services, including:
Alzheimer's Care – Alzheimer's disease is one of the most common forms of dementia, we provide compassionate memory care services designed to assist and make life at home comfortable.
End of Life Care – providing support for seniors and their families during this difficult time in their lives.
Palliative Care – designed to provide the services needed to ensure that our clients and their family caregivers can continue to enjoy a superior quality of life regardless of medical conditions, age, or life expectancy.
Dementia Care – specialized care designed to help clients who are diagnosed with dementia enjoy living independently and safely at home for as long as possible.
Safe & Steady Fall Prevention Program – our caregivers work to eliminate the risk of falling around the home that often results in serious injury to seniors. We can provide mobility assistance along with safe transportation services as needed.
Social Care – helping seniors stay socially connected with family and friends by teaching them how to use the internet to communicate, shop, and for entertainment.
Ready-Set-Go Home – elder care services designed to help with the transition home from the hospital intended to speed recovery and reduce the risk of readmission.
No One Should Be Housebound
When possible, our caregivers are available to help your loved one get out of the house for a variety of reasons. They can help provide transportation and companionship for things like medical appointments at the Health Center of Moselem Springs, to meet friends or family for a delicious meal at The Shop where comfort food is featured on the menu, or for a day out in the fresh air at the Fleetwood Community Park. Our caregivers not only provide safe transportation but will stay with your loved one, providing the type of companionship that can make these trips more enjoyable and safer.
Contact Us
To learn more about our elder care services in Fleetwood, contact Visiting Angels of Pottstown today. Let us schedule your free, in-home consultation with one of our senior care advisers to discuss your loved one's needs.
Serving Pottstown, Sanatoga, Chester Springs, Gilbertsville, Neiffer, and the Surrounding Area
Visiting Angels
POTTSTOWN, PA
2129 E High St
Pottstown, PA 19464
Phone: 610-906-1924