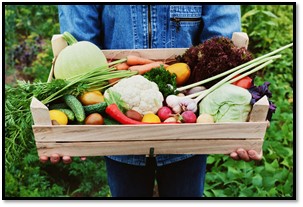 5 Healthy Meals Made from Spring Produce
One of the most extraordinary things about spring is all the fresh produce that's in season. If you're looking for some new and healthy ways to bring spring produce into your kitchen, try one of these tasty recipes.
Fruity Spring Salad
If you enjoy a fresh, crispy green salad with a touch of natural sweetness, then spring is the perfect season to expand your salad horizon. Start your salad with a base of your favorite greens. You can mix lettuce, spinach, kale, and collard greens, or keep it simple with one leafy green. Next, chop up some strawberries and combine them into the greens. Top the salad with a crumble of goat cheese and chopped nuts for crunch.
For some extra flavor, top the salad with a homemade strawberry vinaigrette. Start by adding one cup of frozen or fresh strawberries, ½ cup of olive oil, ¼ cup of red wine vinegar, and one teaspoon of honey mustard to a food processor and process until blended. Add in some salt and pepper to your liking and pour over your spring salad for additional natural sweetness.
Roasted Artichoke
If you're looking for a simple way to enjoy an artichoke, try roasting it in your oven. Start by cutting off the artichoke steam and about an inch off the top of the artichoke, then rinse the artichoke in cold water. Next, slice the artichoke vertically so you have two long halves. Put the artichoke halves on a baking dish and rub lemon juice and olive oil evenly on all surfaces of the artichoke. Place the artichokes with the inside is facing up and fill the artichoke with garlic. Sprinkle salt, pepper, and Italian seasonings on the artichokes and bake in the oven at 400 degrees for 15 minutes. Once you coke the artichokes, you can discard the garlic inside the artichoke and drizzle with lemon juice. Enjoy alone, or serve as a side dish with your favorite lean meat recipe.
Ginger Carrot Soup
Soups aren't just for fall and winter. With the right springtime vegetables such as carrots, soups can be the perfect warm-weather lunch. Start your soup by peeling and slicing two pounds of carrots, two onions, and grating two tablespoons of fresh ginger. Then, heat a large pot on medium-high heat and add two tablespoons of butter and the onions. Once the onions become translucent, add in the carrots, ginger, and six cups of low-sodium chicken broth. Cover the pot and bring to a boil, then reduce to a simmer until the carrots are tender.
Remove the soup from the heat and use an immersion blender to puree the soup. If you don't have an immersion blender, you can transfer the soup to a countertop blender and blend it in batches. Once the soup is blended, return to the pan and put the pan on medium heat. Add in one cup of whipping cream and salt and pepper to taste.
Spring Pasta
Adding fresh vegetables to your pasta is a great way to add new flavors to your meal. Start by making your favorite whole-grain pasta. It can be fettuccine, linguine, fusilli, or whatever type of pasta you like. While you're cooking the pasta, slice up snap peas and asparagus. Heat a large skillet on medium-high heat and cook the peas and asparagus with melted butter until the vegetables are tender. Add in some garlic, salt, and pepper to taste.
Add the vegetables and butter to the cooked pasta and mix well. For the sauce, add in ½ cup of Greek yogurt and ½ cup of grated Parmigiano-Reggiano cheese. The heat of the pasta and vegetables will melt the cheese and create a creamy sauce. If you want the sauce to be creamier, you can add in a splash of plain soy or almond milk until it reaches a consistency you like.
Spring Pea Salad
Not all salads have to have leafy greens. If you want a filling salad with a bit more texture, try a spring pea salad. Start by chopping up one cucumber, half an avocado, and two radishes. Add all those vegetables to a large bowl with 1 cup of fresh shelled peas. You can use cooked frozen peas or canned peas; just be sure to drain first. Mix everything and top with salt, pepper, oil, and your favorite vinaigrette. You can also top off your salad with some crumbled feta or goat cheese.
If you or a loved one needs help preparing fresh meals this spring, the team of caregivers at Visiting Angels Powder Springs can help. Our caregivers can assist with servicing a backyard garden, prepping and cooking meals, and grocery shopping. We also help seniors with light housekeeping, medication reminders, personal grooming, and mobility. Our Powder Springs office serves those in Marietta, Austell, Powder Springs, Dallas, and the surrounding Georgia communities. To learn more about our services, you can fill out this form online or give us a call at 770.222.7388.