Jobs for Professional Senior Care Aides in Powder Springs, GA
Make a Positive Impact on Someone's Life and Yours – Join Our Team Today!
We're proud to have a team of professional and compassionate senior care aides that unite for one common goal: to change the lives of our senior clients. Our clients are looking to stay in the comfort of their loving home, and they need our help to live their best lives. If you're a kind, reliable, and compassionate person who has personal accountability, then we'd love to talk to you. We'll work with you to create a schedule that fits perfectly around your life. You pick where and when you'd like to work and we'll put it all together for you.
Why One on One Caregiving?
Our one-on-one caregiving is exactly what our clients need to thrive within their home. Our care providers help our clients with activities that encompass daily living, which include grooming, medication reminders, and light housekeeping. No matter what our clients need; our senior care aides are there to give a helping hand through it all. What we're most passionate about is helping our clients re-engage and enjoy their life. Our caregivers often say that's where they find the most personal satisfaction: helping their clients rediscover the joy within their everyday life.
What Visiting Angels Can Offer You
We care deeply about the well-being of our professional home care providers. At Visiting Angels, we offer a wide variety of benefits:
Competitive pay, based upon experience
Flexible schedules tailored to your availability
Paid training opportunities
Supportive management staff that provides timely communication and employee feedback
Positive work environment and meaningful job responsibilities that enrich the lives of local seniors
Caregivers Make Our Agency Work, So We Take Caregiver Feedback Seriously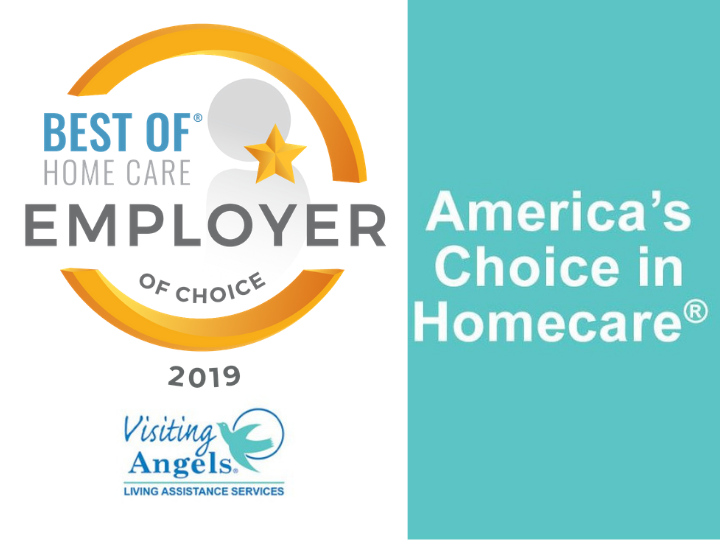 The happiness of our senior care aides means the world to us. In order to make sure we're doing the right things, we hired an outside company, Home Care Pulse, to ask our employees how they really feel. Every month Home Care Pulse asks our care providers what they like and don't like, so we can use that information in order to improve our agency.
We are honored to share that we won the Best of Home Care 2019 Provider of Choice Award. We would like to say thank you to our caregiving team, we are so grateful for each and every one of you!