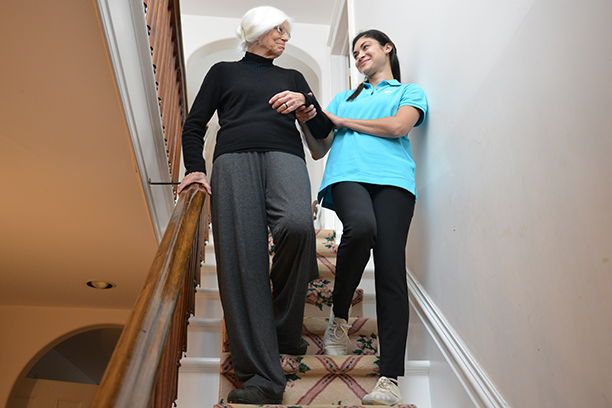 Home Care Providers in Renton
Are you concerned about a loved one living at home? Or are you currently caring for an elderly relative who may need more support than you're able to give? At Visiting Angels® Renton, our home care providers can offer the assistance your loved one needs to remain in their home — and to live their life on their own terms.
About Our Home Care Providers in Renton
Many aspects of aging can make daily life more difficult, preventing seniors in Renton from enjoying the quality of life they deserve. Our home care providers in Renton offer compassionate, customized in-home care for their clients, whether it's help with cooking and grocery shopping or a steadying hand to help with bathing, dressing, and moving around the home.
At Visiting Angels Renton, our care professionals understand how sensitive the topic of home care can be for our clients and their families, so we do everything we can to promote everyone's comfort. To start, we'll create a customized home care plan and schedule for your loved one with your family's input, then we'll give you the opportunity to meet with a care provider we recommend through our Select Your Caregiver® program.
All our caregivers are dedicated professionals with a shared commitment to giving our clients a new lease on life through comprehensive care. As well as providing physical support with the utmost dignity and respect, our home care providers at Visiting Angels Renton can address the many psychological and emotional challenges that seniors often face.
Many seniors living at home may become more socially withdrawn — especially if they're self-conscious about their mental or physical condition, or don't feel comfortable leaving home on their own. Our friendly and engaging home care providers are adept at building strong, trusting relationships with their clients in Renton. Through meaningful companionship and a warm, consistent presence, we can provide the social and mental stimulation seniors need to feel more like themselves.
Request a Free Consultation at Visiting Angels Renton
If your family member in the Renton area could benefit from a bit more help around the house — or regular visits from a friendly face — our home care providers are here to offer the personalized care they need.
Visiting Angels Renton is proud to offer our home care services in Renton, Issaquah, Kent, and Seattle. To learn more about our home care providers in Renton or to book a free in-home consultation, contact us today.
Serving Renton, Seattle, WA and other Communities in King County
Visiting Angels
RENTON, WA
16400 Southcenter Pkwy #208
Tukwila, WA 98188
Phone: 425-282-5505
Fax: 425-282-5324
707 S Grady Way #600
Renton WA 98057
Phone: 425-282-5505
IHS.FS.60024816