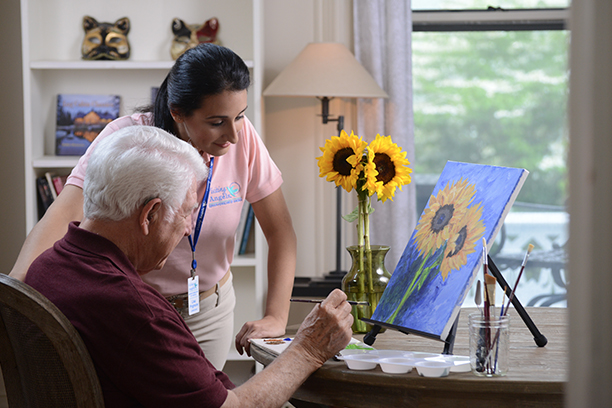 Why Choose Visiting Angels Renton
Visiting Angels® Renton WA is one of the area's most trusted resources for senior care at home. If your aging mother or father is like many, they want to remain in their treasured home for as long as possible. Our goal is to help them stay there. Non-medical assistance from our agency can help your loved one remain autonomous by lending a hand to the activities of daily living. Because our senior care agency is locally owned and operated your loved one will receive knowledgeable care with a personal touch.
Senior Care Available When You Need It
Visiting Angels Renton has senior care providers available when you need them. No matter if your loved one needs services long-term, temporarily, once per week, every day, nightly, or all day long, we can help. Our agency has professional caregivers on staff to help out at all times. Because our care is offered on an affordable hourly basis your loved one can choose the amount of care that's just right for them.
Safety Comes First
When you choose senior care from Visiting Angels Renton, the safety of your loved one comes first. We look out for your loved one's well-being by performing a routine safety assessment in the home. We look for fall risks or unidentified threats to your loved one's safety and provide you with a fall prevention brochure which is full of practical tips to keep your loved one safe. We also require full background checks for all caregivers and our agency is also bonded and insured.
Regular Monitoring of Senior Care is Standard
Regular monitoring of senior care is standard at Visiting Angels Renton. We want to do everything in our power to ensure your loved one is happy with the care they receive from our agency. Friendly administrators will call your loved one and check in regularly. We may also drop by your loved one's home for a visit from time to time. We love to get feedback regarding our care and look forward to checking in on your loved one.
Receive Customized Senior Care
Your loved one can receive customized senior care from Visiting Angels Renton. We look at our services, along with your loved one's needs, and see how we can make the two work together. Personalizing senior care to fit the needs of individuals is something our agency is particularly skilled at.
Call Visiting Angels Renton now to hear more about our senior care and to get started.
Serving Renton, Seattle, WA and other Communities in King County
Visiting Angels
RENTON, WA
16400 Southcenter Pkwy #208
Tukwila, WA 98188
Phone: 425-282-5505
Fax: 425-282-5324
707 S Grady Way #600
Renton WA 98057
Phone: 425-282-5505
IHS.FS.60024816