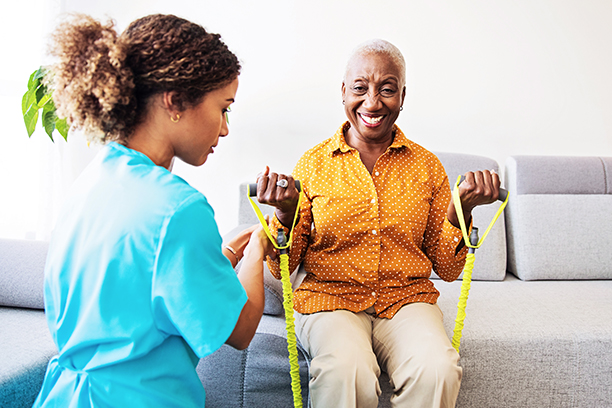 How Transitional Care in Renton Reduces Hospital Readmissions
Ready, Set, Go Home with Transitional Care
If your loved one is in the hospital, they may be eager to finally make a return home. However, the hospital discharge date doesn't only symbolize the end of their hospital stay. It also signifies the beginning of a crucial period in which they are at a higher risk for a hospital readmission. Transitional care delivered through the Ready, Set, Go Home program from Visiting Angels® Renton can lower your loved one's chances of returning to the hospital and increase the time they are able to spend in the comfort of home.
Understanding the Importance of Transitional Care
It's a fact that seniors are at a heightened risk of readmission in the first 30 days following a hospital discharge. Statistics from Medicare reveal that almost 1 in 5 elderly beneficiaries return to the hospital within this one-month window. Because hospitalizations can be so stressful on seniors and their families, and repeat hospitalizations can impede seniors' independence, it is important to lower this risk as much as possible.
In many cases, elderly adults functionally decline after being in the hospital. This can impair their ability to do tasks that once felt like second nature and are essential to their overall well-being and the progress of their recovery. When the most basic activities are exhausting and overwhelming and there is no one around to offer a helping hand, seniors face an increased risk of complications and hospital readmissions.
How Visiting Angels Renton Can Help
While care recipients are still in the hospital or another medical facility, they can utilize our Ready, Set, Go Home discharge planning guide to prepare for the upcoming days and weeks. This guide includes important questions for seniors and their families to ask physicians in order to better understand and set expectations for the recovery process. In using this guide to jot down details as they discuss the discharge plan with their health care providers, families can gain insight into the areas in which their loved ones will require the most assistance.
Our care coordinators can then help build a tailored care plan to put in place before the senior is ever discharged from the hospital. Once they return home, they can experience well-rounded support with their recovery that promotes their ability to stay out of the hospital.
Learn more about transitional care by calling Visiting Angels Renton for a free consultation in Renton, Seattle, Kent, Issaquah, or a nearby community today!
Serving Renton, Seattle, WA and other Communities in King County
Visiting Angels
RENTON, WA
16400 Southcenter Pkwy #208
Tukwila, WA 98188
Phone: 425-282-5505
Fax: 425-282-5324
707 S Grady Way #600
Renton WA 98057
Phone: 425-282-5505
IHS.FS.60024816