In Home Care Services in Stewartville Helps With Depression and Isolation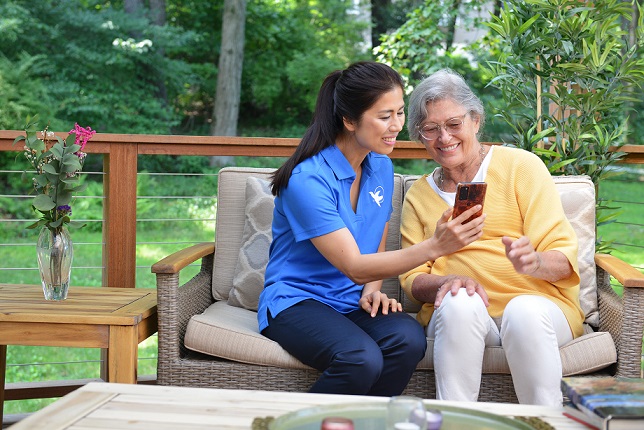 With loving in home care services for Stewartville area seniors, Visiting Angels® Rochester is here to help your loved one live a happier and healthier home life. Our caregivers can provide assistance with meal prep, medication reminders, bathing, and grooming, fall prevention, and much more. In addition, we will provide a kind, caring, and stable presence in their home to help reduce emotional stress.
For many seniors, it can be difficult to find enough social contact. They end up feeling isolated and alone, and this can lead to issues such as depression. In fact, studies show that these types of emotional struggles can even impact physical health. With our in home care, we are proud to offer the support and companionship many seniors need to avoid these issues and enjoy a more pleasant home life.
How Our In Home Care Services in Stewartville Can Help Your Loved One
Our attentive companionship can provide many benefits for your loved one, including:
Conversation. It's important to communicate with other people, share experiences, and feel like you are being heard. This is something many of us take for granted, but for seniors who live alone, the simple benefit of having a kind and thoughtful person to chat with can make a huge difference to their quality of life.
Feeling Valued. We help to keep seniors as independent as possible. Our goal is to provide assistance as needed while giving them the freedom to handle certain tasks on their own. Simple things like doing their own laundry or preparing a meal can help them feel a sense of accomplishment, and this can be very beneficial for their mental health.
Living a More Active Life. We are happy to prepare customized exercise plans based on their specific physical abilities. Our caregivers will also help them keep up with their favorite hobbies and maintain a more active existence.
Companionship Opportunities. We can help your loved one keep up with their social groups by providing safe transportation to such events.
Asking for Help Can Be Hard, Don't Feel Guilty
At Visiting Angels Rochester, we believe that in order to care for another person, you must first take care of yourself. With our home care assistance in the Stewartville area, we provide a flexible and convenient solution for many local families.
Our caregivers can provide one-on-one care in your loved one's home, allowing you to take guilt-free rest whenever you need. We understand that it can be stressful to delegate your care duties to a stranger, but with our extensive background and reference screenings, you can be sure that all of our caregivers are loving, trustworthy, and reliable people.
How Home Care Assistance Benefits Family Caregivers in Stewartville
While it can be difficult, one of the most important things you can do as a family caregiver is to ask for help. In fact, choosing to receive help from a professional caregiver can be an incredibly beneficial decision for both you and your loved one. Even having part-time help can be hugely beneficial. Here are some of the advantages:
You can avoid caregiver burnout. It is common for family caregivers to work themselves to the point of mental exhaustion. Caregiver burnout is a very real concern, so we recommend taking a proactive approach and creating a more manageable situation. With our flexible assistance, you will no longer need to sacrifice all of your free time and energy to make sure your relative is secure.
Your loved one will always receive the best care. We take pride in delivering warm, loving, and compassionate assistance. When our caregivers are on the job, you can always count on attentive and kindhearted care that anticipates your loved one's needs. In addition, by taking proper rest, you'll also be able to provide better care for your loved one.
You can focus on spending quality time with your loved one. In many situations where a loved one is caring for an elderly relative, there is no time for fun and recreation. Instead, you find yourself constantly worrying about their care needs. With our support, you can be free to spend quality time with your loved one and enjoy the time you have together.
Trusted In Home Care Services For Your Family
At Visiting Angels Rochester, our goal is to provide the flexible support each family needs. We offer your family a free care consultation to discuss our care plans in greater detail and come up with the right solution for your loved one. We work closely with families in Stewartville, Rochester, and throughout the local area.
If you've never worked with a home care assistance agency in the past, you may be wondering how to get started. It's normal to have a lot of questions. This is a big step for your family and you may already be feeling overwhelmed by the amount of care your loved one needs.
Help is just a phone call away. It's time to get the assistance and support both you and your loved one need. We encourage you to call our office to learn more. We are happy to answer questions, provide information, and help guide you down this new road you are on.
You don't have to face the future alone. Our team will be here to help you evaluate your options and provide the support and guidance you need. We've helped hundreds of families over the years. We can help you find your footing, get the help you need, and find peace of mind during this difficult time.
We are proud to assist families throughout:
Stewartville
Rochester
Byron
Austin
Albert Lea
and the surrounding areas
For further details about our home care services in the Stewartville area, contact Visiting Angels Rochester to set up your no-cost care consultation today.