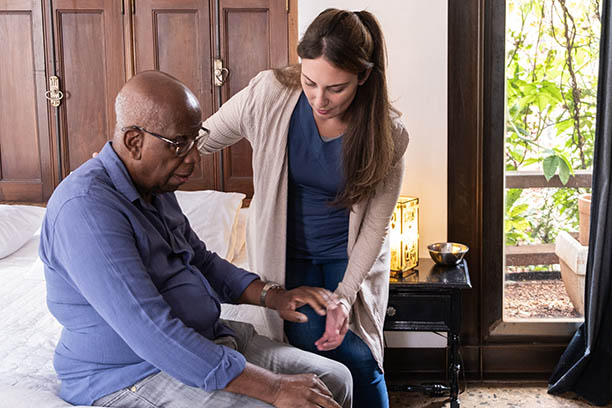 Understanding Palliative Care Services
Visiting Angels provides compassionate, certified palliative care services for seniors in Dunwoody, Sandy Springs, Roswell, and the surrounding areas
People often think that palliative and hospice care are one and the same. While both seek to reduce discomfort as well as improve the overall quality of life of patients, the latter is often limited to caring for individuals nearing the end of their lives. Palliative care is centered on providing care to clients regardless of their life expectancy. As long as someone is in need of care, support, and assistance, this type of care fits the bill.
Taking care of your loved ones can be challenging especially if you don't have any skills and knowledge on caregiving. If taking care of them by yourself poses more risks than benefits, then it is crucial that you consider getting some help.
Customized Care Programs
Here at Visiting Angels of Roswell, we offer Certified Palliative Care to our prospective clients. This program is designed to improve the quality of life by focusing on the many life tenets of our clients. We deal with this program with a holistic approach thus we go beyond providing physical care. Part of our holistic approach also includes providing emotional, social, and spiritual support to our clients.
For the physical support, our caregivers can respond to the signs that are common among the elderly thus we can provide non-medical assistance or call for immediate support. We also understand that aside from their physical needs, their social and emotional needs should also be met. Thus, our caregivers can help educate your loved ones to connect to the internet to communicate with families and friends. Lastly, the comforting presence of our caregivers can also provide them with the spiritual support that they need so that they can be more accepting of what is to come.
Home Care to Meet Your Unique Needs
We offer non-medical support and assistance to the many facets of our clients' lives. Our caregivers work with the philosophy of compassionate care. Since palliative care is such a broad topic, our care is provided through the Life Care Navigation that is a collection of senior care services thus we have different care protocols established for different types of clients including those who require end of life care.
If you would like to learn more about the care services available in your loved one's area, please call our office in Roswell, GA, today! Our staff is happy to answer any of your questions and will work with you to develop a plan of care that best meets your family's situation.
Serving Roswell and the Surrounding Areas
Visiting Angels
ROSWELL, GA
599 West Crossville Rd
Roswell, GA 30075
Phone: 770-573-7817